Redesigned Centrifuge Removes Solids from Grinding Fluids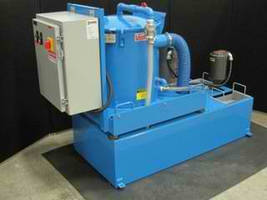 Completely redesigned for ease of solids removal, the LiquaPac(TM) HS2 Clarification System removes fine solids down to 5 micron from grinding fluids. These centrifuges feature a heavy duty molded plastic liner for easy cleaning and produce a dry solids cake for material recovery or simple disposal. With patented features that improved the quality of the separation the LiquaPac HS2 replaces less efficient centrifuges or paper bed filters and cartridges which can become plugged with oil and solids.

The LiquaPac HS2 centrifuge is a component of a system available with a variety of options including tanks, feed and or discharge pumps as well as corrosion resistant components.

The LiquaPac HS2 is manufactured by Sanborn Technologies in Walpole, Massachusetts. The company offers a complete line of equipment specializing in cutting fluid recovery, dewatering and waste minimization via centrifuges and membranes.

For more information on Sanborn Technologies' products contact visit the web site at www.sanborntechnologies.com/LiquaPaC.html or call 508-404-1235.