Red Lion RAM Industrial Cellular Products add MQTT Protocol Support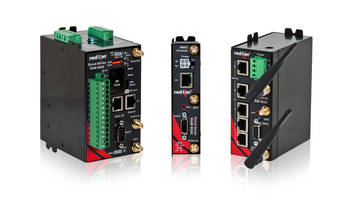 RAMQTT simplifies integration with several leading cloud platforms for IIoT
York, Pa. – April 4, 2017 – Red Lion Controls, the global experts in communication, monitoring and control for industrial automation and networking, today announced that its Sixnet® series RAM® industrial cellular RTUs support the MQ Telemetry Transport (MQTT) protocol. MQTT is a machine-to-machine (M2M)/Internet of Things (IoT) protocol designed for lightweight data transmission and is an important part of Industrial IoT (IIoT) communications. Red Lion's RAM cellular products now provide customers the benefit of fast, simplified integration of industrial automation and process data with leading IIoT cloud platforms.
RAMQTT, Red Lion's MQTT client, simplifies implementations with pre-configured profiles for AT&T® M2X, Amazon® AWSTM IoT, AutoDesk® Fusion Connect and Telenor Connexion. Customers can connect using a simple drop-down menu to select their cloud platform of choice. Also, using the RAM Software Development Kit (SDK), connectivity can be enabled with additional platforms, including LEC IQ Web SCADA, Set-Point IPwebcontrol, Skkynet Skkyhub, and Telit deviceWISE.
"Our RAM products deliver reliable, secure and scalable connectivity to several leading IIoT cloud providers, giving customers different options and the ability to rapidly establish communications and push data to the cloud," said Colin Geis, Director of Product Management, IIoT Red Lion Controls. "This gives customers a fast and easy solution for collecting, monitoring and controlling remote assets using MQTT. By adding RAMQTT to the existing Modbus and DNP3 communications capabilities of our RAM products, we are providing customers with even greater flexibility to interact with a broad range of IIoT cloud platforms. "
In addition to cloud integration and cellular connectivity, RAM products also provide a powerful event engine and an integrated I/O database which streamlines the creation and storage of data tags. The combination of cloud connectivity, reliable cellular communication and easy-to-connect cloud support provides customers with a seamless IIoT solution.
Red Lion's RAM products also offer multiple serial and Ethernet ports and optional I/O, Wi-Fi and an active GPS to securely monitor and control remote devices over 4G LTE cellular networks. By providing data visibility, control and real-time notifications on field-deployed equipment and processes, the RAM platform enables organizations to take advantage of the benefits of IIoT.
For more information on Red Lion's Sixnet® series RAM industrial cellular RTUs, visit www.redlion.net/RAM.
About Red Lion Controls
As the global experts in communication, monitoring and control for industrial automation and networking, Red Lion has been delivering innovative solutions for over 40 years. Our automation, Ethernet and cellular M2M technology enables companies worldwide to gain real-time data visibility that drives productivity. Product brands include Red Lion, N-Tron and Sixnet. With headquarters in York, Pennsylvania, the company has offices across the Americas, Asia-Pacific and Europe. Red Lion is part of Spectris plc, the productivity-enhancing instrumentation and controls company. For more information, please visit www.redlion.net.