Recycling Centrifuge extends effective life of coolant.
Press Release Summary: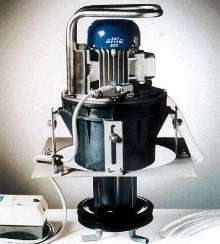 Alfie 200 high-speed, direct-drive, disc-bowl separator mounts directly on coolant tank and keeps coolants free from oil and bacteria. It features capacity of 60-75 gph, and if desired, operates continuously even when machine tool is not in operation. Centrifuge is intended for use in shops with small number of machine tools. It is also suitable for de-oiling neutral pH wash solutions.
---
Original Press Release:

Tank Mounted Alfie 200 Coolant Recycling Centrifuge


Mars Tech is offering the new Alfa Laval Alfie 200 centrifuge, a small high-speed direct-drive disc-bowl separator that keeps coolants free from oil and bacteria. The Alfie 200 is designed for mounting directly on the coolant tank and is intended for use in shops with a small number of machine tools. This new separator is also suitable for use in de-oiling neutral pH wash solutions. It has a capacity of 60 to 75 GPH and, if desired, operates continuously even when the machine tool is not in operation.

Historically, small machine shops have had few choices for coolant cleaning. Filters, skimmers and coalescers are less effective than high-speed separators for coolant cleaning. With the introduction of the Alfie 200, even small shops can take advantage of the most effective coolant cleaning technology available today.

The Alfa Laval Alfie 200 greatly extends the effective life of the coolant. In fact, some shops never replace the coolant. Maintenance is limited to replacing fluid lost or evaporated during the machining process.

The separator skims the coolant from the surface of the reservoir and separates the oil residue and particles. The oil flows through a hose to a collection tank; the sediment is collected in the separator bowl. The purified coolant re-circulates to the tank through three hoses, positioned to distribute the fluid evenly. Operation is quiet and does not disturb operators.

The Alfie 200 cuts manufacturing costs and improves the product quality and the work environment. Studies have demonstrated that a clean coolant saves money by extending cutting tool life, improving surface finish and product quality and cutting coolant disposal costs.

Contact: Maruti Kendale, Mars Tech, Tel: 800-310-5741
E-mail: sales@marstechusa.com Web site: www.marstechusa.com

o Free CD-ROM and VHS cassette available
o Trial rental plans available

More from Sensors, Monitors & Transducers