RectorSeal Debuts HVAC Industry's First Web-Based Condensate Pump Selection Tool for Ductless Mini-Split A/C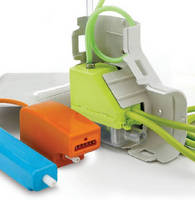 FastFind Pump Selector navigates through all major ductless mini-split brands/models for the U.S. market; selects most ideal Aspen pump along with installation and wiring info.



RectorSeal® Corp., Houston,  a leading manufacturer of quality HVAC/R products, debuts the RectorSeal FastFindtm Pump Selector, the HVAC industry's first and only interactive web-based ductless mini-split condensate pump selection tool for engineers, distributors and installers that's now available at http://www.rectorseal.com/index.php/pump-selector/



The RectorSeal FastFind Pump Selector is a free and easy step-by-step process that intuitively matches the correct Aspen® Pumps ductless mini-split condensate pump with dozens of models from more than 15 mini-split brands. The software is updated regularly to accommodate newly-introduced models.



The user initiates the selection process by choosing a brand, model and then whether the installation requires a Maxi (more than 34-foot-of head) or a Mini (less than 33-foot-of head) style pump.  Once the proper pump location--remote, lineset interior, external evaporator case or drain pan--is chosen, the website intuitively leads the user to the pump's specific product information webpage for installation guidance, voltage requirements, wiring diagrams and other specification and installation data. The information also includes recommendations of accessories such as Fortress or SlimDuct lineset protection duct.



The FastFind Pump Selector software is designed to quickly display all relevant user information in just two webpages of mouse clicks. The program is compatible with tablets, laptops, smart phones, computers and any other Internet-based device.



Aspen offers the world's most comprehensive selection of mini-split condensate pumps with its Aqua, Lime, Orange and White series in Mini and Maxi sizes. The Mini Aqua is designed for mounting inside the evaporator housing, inside the lineset ducting or remotely. The Lime and Orange are designed for concealment inside wall-mounted lineset protection duct elbows and remotely behind walls, or in ceiling spaces, respectively. Aspen's White Series is a aesthetic surface-mount pump that attaches to the wall below the evaporator housing. Aspen also makes the Peristaltic Pump that doesn't clog when exposed to excessively greasy or dirty environments, and the Silent+ pumps for ultra quiet operation.



For additional information on all of RectorSeal's Aspen Pump products and its comprehensive range of mini-split installation accessories, please visit www.rectorseal.com; email: marketing@rectorseal.com;  or call 800-231-3345.



About RectorSeal: The RectorSeal® Corporation is a leading manufacturer of chemical and specialty products designed for professional tradesmen. Steady growth over the years has been maintained through a commitment to providing high quality products and services. With a diversified business strategy, RectorSeal aggressively pursues new and unique technologies to serve the plumbing, heating, air conditioning, electrical and construction industries. The RectorSeal Corporation is devoted to providing innovative quality products supported by strong customer and technical service. For more information,  visit www.rectorseal.com, email marketing@rectorseal.com or call (800) 231-3345.











More from Communication Systems & Equipment