Recorder combines paper chart recording with digital features.
Press Release Summary: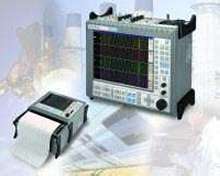 ViewGraf features removable 11 in. real-time thermal array writer, 12.1 in. real-time display panel, and variety of signal conditioners for any type of signal. It provides 16-bit resolution, up to 500 kS/s sample rate and up to 32 channels, with Gigabytes of memory and PC connectivity. Portable unit prints on 11 in. chart paper at 100 mm/sec. It can print real-time and recorded data, or archive data on hard disk, network, paper, or 250 Mbyte Zip disk.
---
Original Press Release:

ViewGraf, The Digital Paper Chart Recorder


A portable compact data acquisition system and chart recorder with Gigabytes of storage

Madison, WI - Gould Instrument Systems, with over 60 years experience in paper based recorders, introduces the New ViewGraf digital storage chart recorder combining the best features of a modern data acquisition system with those of a traditional chart recorder to create one hybrid rugged lightweight instrument. Virtually every aspect of ViewGraf is modular enabling unlimited flexibility, from the removable 11 inch real-time writer and 12.1
inch real-time display panel, to a wide variety of signal conditioners for any type of signal.
o It's a Data Acquisition System... providing 16-bit resolution, up to 500kS/s sample rate, up to 32 channels with modular signal conditioning, Gigabytes of memory and flexible PC connectivity including Ethernet, USB, Zip drive and printer
o It's a High Speed Chart Recorder... with push button front panel controls-no mouse or keyboard required, removable 12.1" color real-time display, removable thermal array writer, custom grids and full 11 inch chart paper output at 100mm/sec
o It's a Digital Storage Chart Recorder... offering rack-sized performance in a compact portable system, prints both real-time and recorded data, archive data on hard disk, network, paper or 250MB Zip disk and offers programmable math functions

ViewGraf's 7700 Series amplifiers provide modular signal conditioning optimized for specific types of transducers, including; thermocouple, accelerometer and strain gage. Plus
there's a wide range of amplifiers for general purpose applications, high sensitivity requirements, and a programmable DSP for formulas, parameter measurements and math.

ViewGraf... it's configurable for virtually any application, in the plant or on the road.

Gould Instrument Systems, a Thermo Electron Company offers state-of-the-art electronic instrumentation used in automotive, power, aerospace, and other research applications.

U.S. prices begin at $10,995. Delivery 4 weeks ARO. Visit gouldis.com
For complete details, contact Jay Roberts at 608-327-6653, fax 608-327-6700.Gould Instrument Systems, 5225-4 Verona Road, Madison, WI 53711, USA

More from Agricultural & Farming Products