Recirculating Chillers Improve Bioreactor Yield, Reduce Operating Cost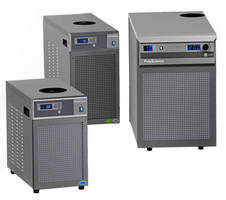 PolyScience offers almost two dozen recirculating chillers designed to maintain bioreactors at the constant temperature required for optimal bacterial and yeast growth. A highly reliable and cost-effective alternative to expensive, inconsistent, and wasteful tap water cooling, PolyScience Benchtop Chillers and 6000 Series Chillers help ensure maximum yield in the bioproduction of pharmaceuticals, antibodies, and vaccines.

PolyScience Benchtop Chillers offer a compact and easy-to-operate solution for cooling bioreactors up to 10 liters in size, maintaining temperature with ±0.1°C stability and delivering cooling capacities as high as 1610 watts. Seven different models are available; all feature a space-saving design, large easy-to-read LED display, and a choice of pumps

For bioreactors larger than 10 liters, PolyScience 6000 Series Chillers are recommended. They also maintain temperature with ±0.1°C stability and feature large, dual displays that present temperature and pressure or flow rate simultaneously. These chillers are available with cooling capacities as high as 2900 watts, compressor sizes from ¼ to 1 HP, and positive displacement, centrifugal, or turbine pumps.

For more information, visit www.polyscience.com/en/category-chillers-coolers.php, call toll-free 1-800-229-7569, outside the US call 847-647-0611, email sales@polyscience.com, or fax 847-647-1155.