Reciprocating Saw offers cordless convenience.
Press Release Summary: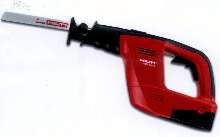 Operating from 3.0 A-hr, rechargeable NiMH battery, Model WSR 650-A Cordless 24 V Reciprocating Saw features large D-shaped handle with multifunctional grip. Orbital action and counterbalance features provide smooth cutting with less vibration. Six speed stroke rate regulator optimizes cutting in different base materials and interlock switch minimizes risk of unintentional engagement. Tool includes keyless blade changes and 7-position shoe with open face design.
---
Original Press Release:
Corded Performance with Cordless Convenience: The New Hilti WSR 650-A 24-Volt Cordless Reciprocating Saw's Performance, Handling and Comfort are a Cut Above
TULSA, (Okla.) - November 26, 2003 - Hilti announces the first in a series of 24-volt tools for the professional user - the WSR 650-A Cordless Reciprocating Saw. With its superior cutting performance, innovative battery technology and smart design, the WSR 650-A is the go anywhere, cut anything tool for mechanical contractors, electricians, utility contractors, and fire and rescue teams. When you need the performance of a corded saw with cordless convenience, the WSR 650-A is your perfect solution. Customer Feedback Means Intelligent Tools Through extensive field testing and observational research, Hilti found that users value performance and comfort - two features somewhat lacking in the current cordless reciprocating saw market. Based on this feedback, Hilti developed the WSR 650-A with performance, durability and handling in mind. This tool combines efficient gearing and a battery anti-discharge system to prevent a full drain of the tool's battery, maximize your cuts and optimize your cutting efficiency. The WSR 650-A's counterbalance feature yields less vibration regardless of the base material - from metal to PVC - to provide operators maximum comfort while making smooth, even cuts. And because it's the only 24-volt recip saw with orbital action, the WSR 650-A enables faster cutting through wood as well. Battery Technology Drives Performance Hilti battery technology packs a big punch. With the Hilti WSR 650-A's 3.0 amp-hour nickel metal hydride (NiMH) battery, you'll get up to 50 percent more run time than with standard batteries. This means more cuts and more working time with each battery charge. Additionally, a double dovetail interface creates a stable connection between contacts to ensure maximum energy transfer. A 2.0-amp hour nickel cadmium (NiCad) battery also is available for the WSR 650-A. Hilti offers innovative, universal chargers for all Hilti batteries. The C7/36 "Smart" Charger with ACS active cooling and auto refresh provides the best battery performance. This charger charges all of your Hilti batteries, including the 36-volt. Its ACS active cooling decreases a battery's charging time (more than 50 percent on 24-volt). The Smart Charger senses when the battery's cells need balancing, then performs auto refresh. With ACS and the auto refresh feature, you can obtain up to 20 percent more life from your battery. The C7/24 Standard Charger also is available for the WSR 650-A. This charger features a refresh button, which provides manual cell balancing for increased battery performance, and charges all Hilti batteries up to 24-volts. Additional Features Offer Added Ease, Protection The cordless WSR 650-A comes standard with many features of the corded Hilti WSR 900-PE. A large D-shaped handle with a multifunctional grip lets users change their hand position easily for maximum comfort and cutting efficiency. A six speed stroke rate regulator optimizes cutting in different base materials and an interlock switch minimizes the risk of unintentional engagement. The tool also features keyless blade changes, a seven-position shoe with an open face design for better visibility of cutting lines and improved accuracy, and a vertical motor mount that evenly distributes the tool's weight (9.5 pounds with battery). A belt pack adapter, which reduces the saw's weight by more than three pounds, also is available for use with the saw. Hilti stands behind the WSR 650-A with a One Year Full Service Program, which includes shipping, maintenance service, repair and replacement of all worn or defective parts, functional testing and adjustment and safety check after any repair.* For more information on the WSR 650-A cordless reciprocating saw or other Hilti tools, please contact Hilti Customer Service. From the US, call Hilti, Inc., at 1-800-879-8000 or visit us.hilti.com; from Canada, call Hilti (Canada) Corporation at 1-800-363-4458 or visit www.ca.hilti.com. * Some limitations apply. See Hilti for details. About Hilti, Inc.: Hilti is a world-leading manufacturer and supplier of quality, innovative and specialized tools and fastening systems for the professional user. With 750 highly trained Hilti field representatives and more than 80 Hilti centers throughout North America, and an additional 1,300 Hilti employees nationwide, Hilti expertise covers the areas of direct fastening, drilling and demolition, diamond coring and cutting, measuring systems, firestopping, screw fastening, adhesive and mechanical anchoring, and strut and hanger systems. Hilti systems and solutions can also be found at more than 150 The Home Depot locations nationwide.
More from Controls & Controllers