Reciprocating Platform offers variable speed control.
Press Release Summary: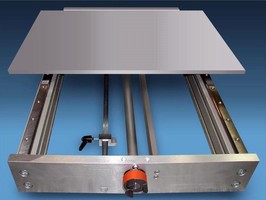 Driven by rolling ring drive which reciprocates automatically without requiring motor reversal, backlash-free reciprocating linear motion platform features control knob for on-the-fly linear speed adjustment. Mechanical control over speed and travel direction eliminates need for electronics and programming. Length of travel may be increased or decreased using adjustable end stops, and reversal occurs without jarring or jerking.
---
Original Press Release:

Reciprocating Platform with Variable Speed and Automatic Reversal Needs No Programming or Electronics



Aston, PA, May 2006 - Amacoil has introduced a reciprocating linear motion platform driven by a rolling ring drive which reciprocates automatically without requiring motor reversal. Using a control knob on the assembly, adjustments to linear speed are also possible on-the-fly - without changing the motor speed or reducing gears. Mechanical control over speed and travel direction eliminates the need for electronics and programming. There are no hydraulics, or pneumatics and the linear drive is low maintenance requiring only light shaft lubrication once every three months.

Length of travel may be increased or decreased using adjustable end stops. Designed for a PCB measurement/cleaning process, the assembly may also be used for scanning barcodes on parts, and other applications requiring repetitive back-and-forth movement of materials. Amacoil will customize the sliding platform to meet specific application requirements or OEM design needs.

Components are precision-machined to limit vertical and horizontal movement of the platform to within ± 0.001 inches. Motion is backlash-free owing to the rolling ring bearings inside the drive which are specially machined and compressed against the shaft resulting in zero play. Smooth reversal without jarring or jerking is achieved with a modified reversal mechanism that dampens the reversal action, dissipating forward momentum at the reversal points.

Amacoil is the US distributor for Uhing rolling ring drives which are used for linear motion in a variety of reciprocating and positioning applications including scanning, spraying, winding, slitting, indexing and sequencing. For more information please contact Amacoil, Inc., PO Box 2228, 2100 Bridgewater Road, Aston, PA 19014. Tel: 610-485-8300. Fax: 610-485-2357. email: amacoil@amacoil.com Web: www.amacoil.com

Email reader inquiries to: beisele@amacoil.com (If using ground mail, please send to Bob Eisele, Amacoil, PO Box 2228, Aston, PA 19014.)

More from Controls & Controllers