Reciprocating Gas Compressors enhance oilfield production/storage.
Press Release Summary: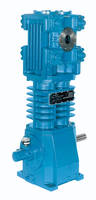 Available in 8 models with heavy-duty, 1- and 2-stage configurations, NG Series incorporates double seal with single distance piece located between 2 sets of seals on each piston rod. Materials maximize performance while minimizing maintenance. Also offering 8 models in 1- or 2-stage configurations with double seal, NGS Series handles sour gas that contains up to 8% dry H
2
S. Select parts follow NACE guidelines in all gas-containment areas, and steel wrist pins ride on steel needle bearings.
---
Original Press Release:

Blackmer® Adds NG/NGS Series Reciprocating Gas Compressors as a Solution for Oilfield Applications



Grand Rapids, MI – Blackmer®, a global leader in positive displacement and centrifugal pump, and reciprocating compressor technologies, is pleased to announce the availability of the NG and NGS Series Reciprocating Gas Compressors. The NG and NGS Series compressors have been designed to optimize operational capabilities in a number of critical oilfield production and storage  applications, including wellhead annulus gashead pressure reduction, wellhead vapor control, pressure boosting, tank-battery vapor control and recovery, gas gathering, gas evacuation, gas blanketing, flare elimination, and enhanced oil and gas recovery.



The NG Series compressors, which are available in eight models—NG162, NG172, NG362, NG372, NG602, NG612, NG642 and NG942—are highly efficient and available in heavy-duty single- and two-stage configurations. Their advanced design technology and materials, which includes a standard double seal with single distance piece located between two sets of seals on each piston rod, provide maximum performance with minimum maintenance. This includes leakage control that prevents oil contamination of the compressed gas stream.



The NGS Series compressors have been designed for the handling of sour gas that may contain up to 8% dry hydrogen sulfide (H2S) and are also available in eight models—NGS162, NGS172, NGS362, NGS372, NGS602, NGS612, NGS642 and NGS942—and in single- or two-stage configurations with standard double seal. To enhance their compatibility with sour gas, the NGS compressors also feature select parts (that follow NACE guidelines) in all gas-containment areas and steel wrist pins that ride on steel needle bearings for extra life under severe operating conditions.



Both the NG and NGS Series compressors offer a ductile-iron head and cylinders, pressure-lubricated crankcases, air-cooled cylinders and O-ring gaskets throughout, that provide positive sealing under all operating conditions. The NG and NGS compressors can achieve flow rates from 10 to 600 MSCFD at maximum allowable working pressures to 615 psia (42.4 bara).



For more information on Blackmer, please go to www.blackmer.com. Blackmer is a product brand within PSG®, a Dover company. For more information on PSG, please go to www.psgdover.com.



About Blackmer:

Blackmer® is the leading global provider of innovative and high-quality rotary vane and centrifugal pump, and reciprocating compressor technologies for the transfer of liquids and gasses. For more than a century, the Blackmer name has stood for unparalleled product performance, superior services and support, well-timed innovation and a commitment to total customer satisfaction. Supported by a worldwide network of distributors and original equipment manufacturers, Blackmer pumps and compressors are used in a multitude of applications in the Process, Energy and Military & Marine markets. Blackmer—headquartered in Grand Rapids, Michigan, USA—is part of PSG®, a Dover company.



Sales Contact:

Thomas L. Stone, PSG® Director of Marketing

PSG®, a Dover Company

616-248-9252 or Tom.Stone@psgdover.com



Media Contact:

Darren Wight, VP Media & Publicity

DeanHouston (agency for PSG)

513-280-0047 or dwight@deanhouston.com

More from Packaging Products & Equipment