Recessed Linear Lighting is suited for video teleconferencing.
Press Release Summary: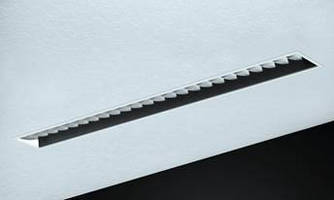 Designed to fit standard 6 in. wide, built-in utility channels in all-modular, flush-mounted gypsum ceiling systems, architrave6 ceiling luminaires deliver controlled-glare, evenly distributed, direct downward ambient illumination. Linear design, with dual-sided, asymmetric matte parabolic louvers, is available with single-tube T5 standard or T5HO fluorescent lamping. Made of 60% recycled aluminum extrusions, housings are 100% recyclable and have powder-coated finish.
---
Original Press Release:

aolight Introduces Architrave6: Energy-Saving Recessed Linear Lighting for Video-Teleconferencing



• Standard with Glare-Control Asymmetric Louvers.



New Product Introduction: architrave6– fully recessed, energy-conserving linear ceiling luminaires that fit standard 6-inch-wide built-in utility channels in all modular, flush-mounted gypsum ceiling systems for commercial, institutional video-teleconferencing applications.



Design: The a•light In-House Lighting Design and Engineering Team.



Manufacturer: The a•light division of AmerillumBrands, U.S. manufacturer of energy-saving LED and linear-fluorescent lighting exclusively.



Product Applications: architrave6 delivers visually comfortable, controlled-glare, highly energy-efficient, evenly distributed direct downward ambient illumination, specifically for all video-teleconferencing applications.



The luminaire is instantly notable by its bold linear design with dual sided matte parabolic louvers specifically designed for low-glare video teleconference lighting. Models suit a broad range of commercial, institutional environments that specify widely used USG Logix™, Armstrong Techzone™ andother contemporary, state-of-the-modular-art acoustical ceiling systems, as well as standard hard ceilings.



Video-teleconference applications include corporate training and conference rooms, hotel meeting rooms, school and university classrooms.  Anywhere interactive group meetings are conducted.  Wherever the need for glare-controlled high-performance, low-energy, low-maintenance video-teleconference lighting coincides with a preference for integral, recessed linear architectural design, substantial energy savings and long operating life.



Product Description: architrave6 is characterized by a distinctive dual-sided asymmetric parabolic louver designed especially for the video-teleconference environment.



This advanced louver design uniquely, effectively applies two properties: a matte specular finish on the louver's parabolic shape assists in directing T5 Series illumination down onto video-teleconference subjects, providing defined longitudinal cut-off.  On the opposite louver side, matteblack-finish metal is oriented towards the front of a room. It mitigates glare in the eye of the presenter, a video camera and video screen. Luminaires are available with single-tube T5 standard or T5HO fluorescent lamping. MR-16 halogen accent lights are options at each end of architrave6 for decorative ambiance, are multi-circuited to turn off when wanted.



a•light created these new-type video-teleconference luminaires to allow efficient low-energy concentration of all ceiling lighting into crisp, continuous minimalistic lines, free from overlighting and constant visual interruption from various lighting fixtures.  An acoustical ceiling system using architrave6 organizes a ceiling, brings cohesiveness of design (forming a design element of its own), and provides low-glare energy-conserving light that lasts many thousands of hours, requires little tonoroutine maintenance.



architrave6 video-teleconference lighting designs can be created vertically or horizontally along modern acoustical ceiling panels, or in standard gypsum ceilings. "Gyp" versions have a flangeless appearance for gypsum or tile to be "mudded" up to lens edges with a 5-inch cut-out; trim-flange versionshave a clean .5-inch trim around the entire luminaire, powder-coated in any color. Multiple T-bar versions, shadow-molding flanges, and one-inch regressed gypsum ceiling models also available.



Luminaires themselves are a mere 5-inches high by 5-inches wide, with a 4.75-inch aperture. Nominal lengths are 4-, 8- or 12-foot, and may also be specified in rows of any length. MR16 downlight accent modules are options, as are photocells and occupancy sensors.



Construction & Finishes: architrave6 luminaire housings are constructed from high-quality 60% recycled aluminum extrusions, are 100% recyclable.  An alightanium™ low environmental impact powder-coated finish is standard for trim-flange models.  Satin white, satin black, other standard powdercoat and custom colors may also be specified.  architrave6is UL, cULdamp listed; proudly made in America at our own large, modern architect-designed plant.



Contact Information: Visit a•light on the World Wide Web to find your local independent or factory representative at www.alights.com.  The new a•light state-of-the-art headquarters and plant is at 3728 Maritime Way, Oceanside, California  92056.  Telephone: (760) 727-6627.  Fax: (760) 727-7695. Email Marya at: mlipiec@alights.com.



a•light is a division of AmerillumBrands, a multinational U.S.-based manufacturer of specified, contemporary, energy-saving lighting exclusively.

More from Electronic Components & Devices