Recessed LED Downlights deliver 100-115 lm/W efficiency.
Press Release Summary: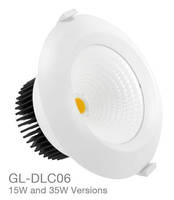 Designed for 6 in. recessed fittings, GL-DLC06 comes in 15 and 35 W versions respectively capable of producing 1,600–1,720 lm and 3,500–3,800 lm for indoor lighting applications. CoB LED package technology with cold forged thermal modules and LED driver with up to 0.98 power factor maximize operational efficacy. Along with DC power jack that accelerates installation, dimming and non-dimming products offer 3000K (Warm White), 4000K (Neutral White), and 5000K (Cool White) color options.
---
Original Press Release:

GlacialLight Announces 6" Recessed LED Down Lights with over 100 Lumens per Watt - GL-DLC06



Highly Efficient CoB LED Down lights Come in 15W and 35W Versions for Indoor Lighting Applications



Taipei Taiwan - GlacialLight, the lighting division of GlacialTech Inc., announces its newest recessed down light model. The GL-DLC06 is a recessed LED down light for 6" recessed fittings which comes in 15W and 35W versions. Designed for indoor lighting applications, these new down lights leverage the latest high efficiency CoB LED package technology with cold forged thermal modules and a high power factor LED driver to achieve 100 lumens per watt or more. With 2 brightness models, 3 color temperatures as well as dimming and non-dimming versions, the luminaires can be precisely configured to customer requirements.



High Efficiency GlacialLight Design Achieves 100 lm/W

Using the brightest CoB LEDs isn't enough -- GlacialLight leverages powerful cooling technology with cold forged thermal heatsinks to achieve strong lighting performance. Driven by an efficient GlacialPower LED driver achieving up to 0.98 power factor, the GL-DLC06 is able to produce from 100 to 115 lumens per Watt.



Indoor Lighting for Your Environment

Coming in both low power consumption 15W (1600lm-1720lm) and powerful 35W (3500lm-3800lm) versions, the GL-DLC06 down light's brightness can be chosen to meet customer needs. A dimmable model provides additional brightness control. Color temperatures can be chosen from 3000K Warm White, 4000K Neutral White and 5000K Cool White to suit a range of indoor environments.



New Power Plug Design for Easy Installation

The GL-DLC06 features a new DC power jack for quick installation. There's no chance of mismatching match wires, simply plug the LED driver's DC power jack in the luminaire and the driver is properly connected.



Specifications

GL-DLC06-35 (non-dimmable) / GL- DLC06DA-35 (DC dimmable: 1-10V/PWM/Resistor)







Type



GL-DLC06-35-WW
GL-DLC06DA-35-WW



GL-DLC06-35-NW
GL-DLC06DA-35-NW



GL-DLC06-35-CW
GL-DLC06DA-35-CW





Energy Used



35W





Rated Life



30,000 Hours





Input Voltage



100-240V AC
(Driver with CUL Certificate Support 277V AC for North America only)





Power Factor (PF)



0.98 @120V AC, 0.94@240V AC without dimmer





CCT (color)



3000K



4000K



5000K





Luminous Flux



3500 lm



3700 lm



3800 lm





System Efficacy



100 lm/W



106 lm/W



109 lm/W





CRI (Minimum)



80



80



80





Beam Angle



90° (Reflector)





Dimension



∅ 175 x 100mm





IP Rating



IP40





Operation Temperature



-20°C ~ +40°C





Bundled Driver



GP-RS35P-42C / GP-RS35P-42CA (Dimmable)





Net Weight



1050 g (with driver)





Package



8 Boxes / Carton







GL-DLC06-15 (non-dimmable) / GL- DLC06DA-15 (DC dimmable: 1-10V/PWM/Resistor)







Type



GL-DLC06-15-WW
GL-DLC06DA-15-WW



GL-DLC06-15-NW
GL-DLC06DA-15-NW



GL-DLC06-15-CW
GL-DLC06DA-15-CW





Energy Used



15W





Rated Life



30,000 Hours





Input Voltage






100-240V AC





(Driver with CUL Certificate Support 277V AC for North America only: non-dimmable)








Power Factor (PF)



0.88 @120V AC, 0.8@240V AC without dimmer





CCT (color)



3000K



4000K



5000K





Luminous Flux



1600 lm



1700 lm



1720 lm





System Efficacy



107 lm/W



113 lm/W



115 lm/W





CRI (Minimum)



80



80



80





Beam Angle



90° (Reflector)





Dimension



∅ 175 x 100mm





IP Rating



IP40





Operation Temperature



-20°C ~ +40°C





Bundled Driver



GP-HS15P-42C / GP-HS15P-42CA (Dimmable)





Net Weight



850 g (with driver)





Package



8 Boxes / Carton







Features:

• 6" recessed CoB down light

• Comes in 15W(1600lm-1720lm) and 35W(3500lm-3800lm) versions

• Dimming option available(1-10V/PWM/Resistor)

• 100+Lumen/W lighting performance

• New DC power plug design simplifies installation

• Cold forged heatsink is small yet achieves strong thermal performance

• 3 Color temperatures: 3000K Warm White, 4000K Neutral White, 5000K Cool White



Read more about this new product please visit at GlacialLight's website:

http://www.glaciallight.com/products/CoB-LED-downlight.htm



About GlacialLight

GlacialLight, the lighting division of GlacialTech, manufactures LED lighting solutions for indoor/outdoor applications and both residential and commercial uses. As well as having a wide range of finished LED lighting products, GlacialLight also offers its clients the option of customizing products for specific needs. Please visit the company homepage at www.GlacialLight.com.



GlacialTech Press Contacts

Tatiana Trosheva

Account Manager

Email: tatiana@globalpr.com.tw

Skype: GPR-Tatiana



Jean-Pierre Skalamera

Director

Email: jp@GlobalPR.com.tw

MSN: GPR-JP@hotmail.com

Skype: GPR-JP



http://www.GlobalPR.com.tw

Tel: +886-(0)2-2882-5577

More from Computer Hardware & Peripherals