Recessed Ceiling Lighting suits shallow ceiling plenums.
Press Release Summary: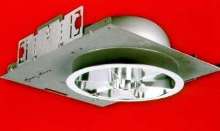 TurboBaffle(TM) compact fluorescent baffled luminaires feature radial louvers inside that reflect light, but minimize glare. Virtual Source® optical system provides 45° symmetrical cutoff in all lateral planes. TurboBaffle is available in 6 and 8 in. apertures, with fixture depths between 4-5 in. Light output emanates from 13 W twin tube, 18 or 26 W quad tube, or 26, 32, or 42 W triple tube CFLs. Magnetic or electronic ballasts provide instant-on and are accessible below ceiling.
---
Original Press Release:

Recessed Ceiling Lighting Soars With New Turbobaffle(TM) Models From Prescolite


New Product: TurboBaffle(TM) - recessed compact-fluorescent baffled luminaries with Virtual Source® optics for shallow ceiling plenums.

Design: Prescolite Inc., a division of Hubbell Lighting, Inc.

Manufacturer: Prescolite Inc., a division of Hubbell Lighting, Inc.

Product Applications: TurboBaffle recessed ceiling luminaires are the newest addition to Prescolite's Architektur line of specification-grade downlights for commercial and institutional applications.

Prescolite's proprietary Virtual Source® optical system provides high-performance illumination to TurboBaffle, providing 45 degree symmetrical cutoff in all lateral planes and high visual comfort. Radial louvers inside TurboBaffle reflect light more efficiently than ordinary reflectors, in a contemporary industrial aesthetic particularly well-suited for shallow ceiling plenums in a range of environments. These include offices of all types, retail stores, restaurants, hospitality and entertainment venues.

Product Description: TurboBaffle embodies its own distinctive contemporary design, with a high-tech appearance that conjures images of a turbo-jet engine, with an open central hub surrounded by highly polished, radial louver reflectors. The louvers maximize light output yet minimize uncomfortable, distracting glare. TurboBaffle is available in 6- and 8-inch apertures, with fixture depths between a mere 4- or 5-inches. This allows applications with very shallow ceiling plenums to yield high-performance illumination with significant operating economy. Light output emanates from a choice of 13-watt twin tube, 18- or 26-watt quad tube and 26-, 32-, or 42-watt triple tube compact fluorescent lamps.

TurboBaffle, the newest member of Prescolite's Architektur family of recessed luminaires, uses the patented Virtual Source optical system to provide efficient, symmetrical and comfortable light output from a choice of twin-, quad- or triple-tube compact fluorescent lamps.

TurboBaffle's understated, contemporary design integrates with other Prescolite lighting options notably the Signos decorative element series, allowing creation of complete lighting solutions for any application environment.

Construction & Finishes: Prescolite TurboBaffle housings are constructed with an 18-gauge cold-rolled steel platform. The radial louvered reflector is available in Alzak® specular clear Virtual Source options. Upper reflector is field-adjustable for precise on-site alignment. Magnetic or electronic, multi-volt, Class P compact fluorescent ballasts provide reliable, instant-on operation and are accessible below the ceiling. All TurboBaffle fixtures are UL and CSA listed for damp location use, approved for through wiring, insulated ceilings, and use in NYC.

Ordering Information: For literature, specifications and pricing for TurboBaffle, contact Prescolite, Inc., 101 Corporate Drive, Suite L, Spartanburg, South Carolina 29303. Telephone (864) 599-6000. Fax: (864) 699-1357. Visit Prescolite on the World Wide Web at www.prescolite.com.

Prescolite is a member of the Hubbell Lighting family of quality manufacturers. Hubbell Lighting, Inc. is traded on the NYSE under the symbol HUBB.