Receiving New Touches and Life - Grinding Machine Market: Reconditioned Used and Technological Retrofits Highly Valued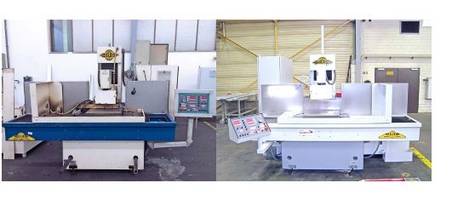 Aschaffenburg/Hannover, Septermber 19, 2017 - Used machine sales and retrofit business at machine tool manufacturers is currently booming. Elb-Schliff, manufacturer of grinding machines, has therefore expanded its services, in addition to reconditioning of second-hand machines, technological retrofits are on top of clients' wish list. Basically, overhauled machines can, equipped with measurement sensors and fingerprints, support monitoring in preventive maintenance.
"The market for used machines is growing at an increasing rate", says Torsten Eckert, who for the last three years is responsible for the factory service at Elb-Schliff and aba. "As manufacturer and mechanical engineering company we are able to benefit from our extensive know how and professional expertise. That is why Elb-Schliff has added staff to its service team and established its own werkService (factory service) in Babenhausen, not far from the main headquarters in Aschaffenburg, Germany. At the "Service & Retrofit Center", old grinding machines are brought up to state of the art, overhauled and, if desired, retrofitted. For a complete technical overhaul, i.e. a retrofit of the machine, the main manufacturing site in Aschaffenburg is responsible.
The focus is on overhauling standard grinding machines, usually typical standalone-machines such as those used for regrinding in repair shops or for surface grinding in toolrooms. They are being upgraded one-to-one to the latest state of the art whereby the functional area remains identical. By overhauling their mechanics and controls, these machines are again made fit for the used machine market. "We are giving the grinding machines a second life", explains Torsten Eckert, "After its overhaul the grinding machines can work again reliably for another 15 to 20 years, and this per our high-quality requirements." Customers also receive a factory warranty for their used machines.
The wide range of original spare parts is a real advantage for our customers. About 10,000 parts are on stock in the Elb-Schliff service system – of which 600 to 1,000 are frequently requested.
Retrofit for grinding machines
The werkService only should execute minor conversions and retrofits. The retrofit is done, when the machines are subjected to a complete general overhaul and are brought up to the newest technical condition - extensions in the scope of applications are possible, too.
An example is the retrofit of an old machine with V-flat guides and hydraulic drive to be replaced by linear guides and linear drive. In addition, measuring systems can be integrated enabling in-process measurement to reduce set-up times. Also highly important is the replacement of the complete control elements so that latest NC-programs can be used. A further benefit is the higher productivity of the machine. When it has been equipped with new, more powerful drives, completely different feed rates are possible, which in comparison with conventional grinding enables high speed grinding.
Higher energy-efficiency of the retrofitted machines is achieved by shutdown management whereby, partially, hydraulic and mechanical control elements are replaced by electrical actuators. The technological overhauled machines can also be equipped with the latest sensor and measurement technology for detection and compilation of machine data to control the state of the machine. The motor spindle, with integrated drive and dynamic motion control, then "reports" performance data. In case of a power drop, a scheduled maintenance can be initiated at an early stage. Temperature, force and vibration sensors allow for continuous monitoring and preventive maintenance.
On average, one should calculate 70 per cent of the price of a new machine. However, for this investment, the customer received an overhauled used grinding machine with the highest quality standards in the industry. In addition, Elb-Schliff issues a warranty on its overhauled used and retrofitted machines. Customers receive a quality machine made in Germany with German service and high quality spare parts from the original manufacturer - worldwide.
More from Machinery & Machining Tools