Receiver Module suits fiber-optic telecommunications market.
Press Release Summary: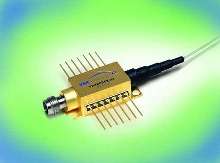 Model 40R02 40 Gbps module incorporates waveguide photodetector with integrated pre-amplifier. Sensitivities approach -15 dBm, and typical noise current density is ~20 pA/rtHz. Unit features +2 dBm optical overload, bandwidth greater than 50 GHz and provides efficient operation at 43.5, 18, 12.5, and 10.7 Gbps. At 12.5 Gbps, it offers sensitivity of -17.5 dBm. Module comes in high-speed 14-pin butterfly package with single-mode fiber pigtail.
---
Original Press Release:

VSK Photonics Introduces New 40 Gbps Receiver Module


March 21, 2003 - Lake Forest, CA - VSK Photonics, Inc. announces the new VSK 40R02, a high performance, 40 Gbps Receiver Module for the fiber optic telecommunications market. The universal 40G Receiver leads the industry with sensitivities approaching -15dBm and a typical noise current density of ~20pA/rtHz.
It features +2dBm optical overload, bandwidth greater than 50 GHz and provides efficient operation at 43.5Gbps, 18Gbps, 12.5Gbps, or 10.7Gbps. At 12.5Gbps, the 40G receiver module offers a sensitivity of -17.5dBm.

The VSK40R02 40 Gbps Receiver Module incorporates a high-performance waveguide photodetector with an integrated pre-amplifier for excellent performance at 40 Gbps. The receiver is manufactured on-site at VSK's Indium Phosphide (InP) wafer fabrication facility.

The extremely high sensitivity and high gain of VSK's new 40 Gbps module makes it ideally suited for equipment test and measurement, for transponders and telecom systems, and for defense applications. Compatible with conventional surface illuminated pin receivers, the VSK40R02 comes in a high-speed 14-pin butterfly package with single-mode fiber pigtail.

About the Company:
VSK Photonics, Inc. leverages its state-of-the-art Indium Phosphide (InP) wafer fabrication facility and proprietary packaging technology to deliver high speed optoelectronic integrated circuits (OEICs) for the next generation of optical networking systems. Founded in December 2000, VSK Photonics proudly offers high performance optoelectronic products to an ever-evolving global industry. For more information, please visit: www.vskphotonics.com

More from Software