Receiver Antennas suit synchronized watch applications.
Press Release Summary: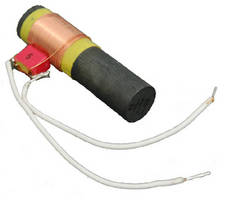 Configured as parallel resonant tank, RCA-ROD Series features ferrite core measuring 10 x 40 mm. Units can be set and tuned in different frequencies from 40-139 kHz for synchronized clock applications as well as ripple control applications, which include tariff switching, lighting controls, and smart metering. Long wave transmitters use FSK modulation with frequency precision of ±107 Hz and signal speed of 200 Bd.
---
Original Press Release:

Receiver Antennas for Synchronized Watches and Ripple Control Applications



PREMO enhances its receiver antennas range with the new RCA-ROD series (radio clock antenna), an antenna for synchronized clocks and ripple control (tariff switching, public lighting control, smart metering, etc.), which consist into a parallel resonant tank.

The ferrite core standard dimension is 10x40mm. Other antenna dimensions are available under request.

The RCA-ROD antenna can be set and tuned in different frequencies from 40kHz to 139kHz, for clock applications (synchronization with atomic clock, 40 and 60kHz in Japan, 77.5 kHz in Germany, etc.) and power control and management applications (tariff switching and load management), lighting controls, smart metering, etc.

There are several clock signal and long wave transmitters for the power control (radio ripple control): DCF77-77.5kHz(Germany), HBG-75kHz (Switzerland), MSF-60kHz (United Kingdom), JJY-40&60kHz (Japan), WWVB-60kHz (USA), DCF49 (Germany): 129,1kHz (Mainfligen transmitter, 100kW), y 139kHz (Burg transmitter, 50kW), 135,6kHz (Laikhegy, Hungary, transmitter 100kW) to cover different zones.

These long wave transmitters use FSK modulation with frequency precision of +/- 107 Hz and signal speed of 200 Bd.

In a precision receiver antenna design configured with a resonant tank is very important the quality factor of the circuit, which is a combination of the "Q" of the coil and "Q" of the capacitor.

The higher is the quality factor, the more sensitivity will have the signal reception of the antenna. (f.e.m will be increased in the tank), but on the contrary, the bandwidth of the resonant circuit becomes narrower. So, small variations in the inductance (L) or capacity (C) could cause a shift in the operating frequency and therefore a significant loss of receiving signal; thus compromise is established of quality factor "Q" to assure the proper operation of the antenna: 60-90.

100% of PREMO antennas are tuned in the manufacturing chain in the required operating frequency, with a bandwidth around +/- 500Hz. They use as ferrite cores as capacitors highly stable in temperature with low noise factor, so the antenna maintains its parameters between -40 º C and +70 º C.

PREMO

PREMO worldwide leading company designs, manufacture and supplies standard and custom made inductive components for the electronics market. Our wide range of products are RFID transponder coils, EMC filters, PLC accessories, planar transformers, current transducers, chokes, mainly for automotive, renewable energy and railways markets.

To download the datasheet please click here: http://www.grupopremo.com/es/file/563

For further information you can always contact:

Communication Department:

Rocío Arrupe

Rocio.arrupe@grupopremo.com

PREMO Headquarter

Premo C/. Conchita Supervía

13 - 08028 Barcelona (Spain)

www.grupopremo.com

info@grupopremo.com

Phone number: 34 934 098 980

Fax: +34 934 906 682

More from Electronic Components & Devices