Reamers offer multi-flute, modular design.
Press Release Summary: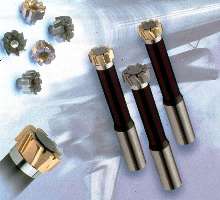 REAMAX(TM) reamers for quasi-dry machining, with solid exchangeable cutter heads, allow nearly any type of cutting configuration. Multiple cutting edges provide maximum cutting output. Diameters and geometry are freely selectable. Precise cone interface between shaft and reamers provides increased concentricity and precision of exchanged parts.
---
Original Press Release:

REAMAX(TM) High Speed Reamers


"Multi-flute and modular" - With the newly developed high-speed REAMAX(TM) reamers, the KOMET GROUP offers a tool system for maximum cutting output from multiple cutting edges and the advantages of exchangeable cutting heads in one unique system.

When finish-machining, the dimensional and positional tolerances and attainable surface quality place enormous demands on reamers. Given this fact, machining with minimum lubrication is gaining increasing importance. The increased cutting speeds
and feedrates require tools that are adapted to the high loads arising from the forces associated with machining.

Modular high-speed REAMAX(TM) reamers based on the design of the established rapid set heads were therefore developed by the KOMET GROUP. The design of the tools for "quasi-dry" machining increases the economy of finish-machining holes by more than
the slight amount of lubricant; substantial advantages arise from the higher output over shorter periods with improved quality. Among the most impressive properties of the new tools is the solid exchangeable cutter head. It is easy to handle and allows nearly any type of cutting configuration.

o Multi-flute reamers by Dihart have been relied upon for decades.
o More economical exchangeable reamers bring promising advantages to fine machining.
o Maximum cutting output increases the material removal rate and saves costs.
o The diameters and geometry of the exchangeable reamers are freely selectable.
o Thanks to the manufacturing cell system at Dihart, shorter delivery times are possible for standard and special dimensions.
o Increased concentricity and precision of exchanged parts thanks to a precise cone interface between the shaft and exchangeable reamers.
o Dihart has a worldwide presence as a member of the KOMET GROUP, which allows it to be close to customers to introduce the REAMAX(TM) system.

For complete details or detailed literature on the new REAMAX(TM) High Speed Reamers contact: KOMET of AMERICA, Inc. 2050 Mitchell Blvd. Schaumburg, IL 60193-4544, 847.923.8400, FAX: 800.865.6638 or www.komet.com.

More from Packaging Products & Equipment