Real4K™ Embedded Optical Modules offer uncompressed 18 Gbps video links.
Press Release Summary: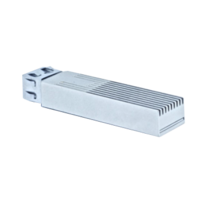 Real4K™ Embedded Optical Modules simplifies the design of HDMI 2.0 matrix switches and optical extenders. Units support HDCP, EDID, CEC and DDC over single cable up to 1000 m. Module offer 4k video, 60 Hz, 4:4:4 color and are designed to enable video over fiber AV systems.
---
Original Press Release:
Inneos Introduces Real4K™ Embedded Optical Modules
Expands Real4K™ Family with products designed to enable "Video over Fiber" AV systems
Real4K™ Embedded Optical Modules are optical sub-assemblies designed to be easily integrated into AV systems, extenders, and switches. Real4K™ Embedded Optical Modules allow AV system OEMs to build "Video over Fiber" systems which offer uncompressed 18Gbps (Real4K) video links. Inneos' new embedded products use the same technology that is inside of Inneos' award-winning Real4K™ Optical Adapters. Both types of products are interoperable and offer uncompressed 18Gbps over a single optical fiber. This means that AV switches, video extenders, and rack mountable systems from third party OEMs that use Inneos Real4K™ Embedded Optical Modules will be able to send full 4K, 18Gbps video to Real4K™ Optical Adapters that are deployed up to a kilometer away.
The challenge of 4K and 8K video data rates and distance
The AV industry has been struggling with the physics challenge of data rates required by 4K video with all its' bells and whistles. HDMI 2.0 has a data rate of 18Gbps uncompressed. Copper cables can't handle this for distances beyond roughly 6-7 meters. The data rate for 8K video is 48Gbps and copper cables can only move a 48Gbps signal a few meters at most. The industry has been trying to address this problem by reducing 4K features, using data compression, or by adding active electronics that both compress and extend electrical signals. Reducing features reduces the great user experience that 4K video was designed to deliver. Compression requires processing, loses data, and introduces latency. These are significant sacrifices for a short-term fix. None of these solutions solves the video bandwidth problem in a meaningful way.
Video over Fiber solves the bandwidth problem
Fiber optic cables don't have the bandwidth limitations of copper cabling. Fiber has the bandwidth to handle many times the current data rates for 4K video (100Gbps and more). New fiber cabling technologies are inexpensive and as easy to deploy as category cable. Active optical cables offer the full bandwidth required with the exact deployment model used by extended length copper HDMI cables. Proactive companies in the AV industry are preparing for the transition from copper to optical interconnects.
"The transition that happened in Telecom and Datacom is happening in the AV industry. We've reached the tipping point where optical must replace copper interconnects if you want to keep providing customers with better and better visual experiences," said Todd Whitaker, SVP of Sales and Marketing at Inneos. He continues, "the AV industry has its own unique requirements like interoperability across thousands of products. New optical fiber and transmission solutions are starting to appear which cater to the unique demands of AV professionals."
Inneos' Real4K™ Embedded Optical Modules simplify the design of HDMI 2.0 matrix switches and optical extenders by providing a standard electrical interface while handling all electrical-optical conversion and EMI effects inside the module. The Real4K™ Embedded Optical Modules Transmitter and Receiver support 18 Gbps HDMI data channels, including all HDCP, EDID, CEC and DDC, over a single multimode fiber for distances up to 1000m. These modules allow faster time-to-market with a verified (and field tested) optoelectronic design of the HDMI optical link.
Key Features of Inneos' Real4K™ Embedded Optical Modules (part # SH51-02M):
Embedded optical module supports HDMI 2.0b over a single optical fiber
Real4K™ – 4k video, 60 Hz, 4:4:4 color
Full support for DDC, EDID, HDCP, and CEC over fiber link
Links up to 1000 meters
About Inneos
Inneos is a vertically integrated provider of optical solutions for Videocom that designs and manufactures all its products in the USA. For more information about Inneos' market leading products and solutions, please go to: www.inneos.com