Real-Time Spectrum Analyzers feature USB-based design.
Press Release Summary: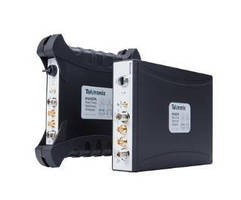 With frequency coverage from 9 kHz to 7.5 GHz, Series RSA500 and RSA600 provide 40 MHz acquisition bandwidth, measurement dynamic range from -161 dBm/Hz Displayed Average Noise Level, and up to +30 dBm max input. Battery-powered 3 GHz RSA503A and 7.5 GHz RSA507A bring lab performance to field, while 3 GHz RSA603A and 7.5 GHz RSA607A use line-cord power and have desktop form factor. Both have optional tracking generator with integrated internal bridge for basic device, cable, and antenna testing.
---
Original Press Release:

Tektronix Expands Innovative USB-Based Real-Time Spectrum Analyzer Lineup



New Instruments Deliver Up to 7.5 GHz Frequency Coverage with 40 MHz Capture Bandwidth for Less than $10,000



BEAVERTON, Ore., – Tektronix, Inc., a leading worldwide provider of test, measurement and monitoring instrumentation, has expanded its line of disruptive USB-based real-time spectrum analyzers with 4 new higher-performance models targeting design, spectrum management and wireless transmitter installation and maintenance applications. The new RSA500 and RSA600 series of analyzers offer frequency coverage from 9 kHz up to 7.5 GHz with 40 MHz acquisition bandwidth, a measurement dynamic range from -161 dBm/Hz Displayed Average Noise Level, and up to +30 dBm maximum input.



The new USB-based spectrum analyzers embrace the design approach of the very successful 6.2 GHz RSA306 USB-based real-time spectrum analyzer introduced last year, offering even higher instrument performance levels and analysis capabilities in two new compact, affordable packages. The new models take USB-based instruments to the next class of spectrum analyzer performance while adding the versatility of both a line-operated laboratory package and a rugged battery-operated package with a tablet PC option. Both the RSA500 and RSA600 also have an optional tracking generator with an integrated internal bridge for basic device, cable and antenna testing.



Compared to traditional spectrum analyzers, Tektronix USB-based instruments represent an exceptional value with pricing levels that fall about 60 percent of traditional standalone instruments with comparable performance. Through a standard USB 3.0 connection, the instruments are operated from a desktop PC, laptop or tablet using an updated version of the full-featured SignalVu-PC software suite - included at no additional cost - that provides 17 measurements, real-time DPX signal processing, and a range of application-specific add-on modules for in-depth analysis.



"With our family of USB-based spectrum analyzers, we are giving customers a full featured, spectrum analysis solution at a fraction of the price of traditional instruments. All this is made possible by replacing knobs, operations modes, and screens with software and adding ground-breaking technology to get more in a smaller package," said Jim McGillivary, general manager of RF and Component Solutions at Tektronix. "As we've seen with the RSA306, USB-based instrumentation is quickly becoming accepted by mainstream spectrum analyzer users who are finding that the smaller form factor is actually an advantage and that the performance and usability exceeds their expectations. The lower price means that customers can now afford to equip more of their engineers and technicians with the latest instrumentation."



Rugged tool for spectrum management

The RSA500 series of portable spectrum analyzers bring lab performance levels to the field for fast, cost-effective spectrum management, interference hunting and network troubleshooting. The series includes the 3 GHz RSA503A and the 7.5 GHz RSA507A. These battery powered instruments are qualified to MIL-STD 28800 Class 2 for shock and vibrations and rated IP52 for water ingress.



A number of additional features and capabilities further facilitate field applications including a GPS receiver with locked frequency accuracy up to +0.025 ppm and an available tracking generator for cable and antenna testing with measurements like Return Loss and Distance to Fault*. As real-time spectrum analyzers, the RSA500s allow spectrum managers to see very short duration signals for fast identification of problem or interfering signals.



Cost-effective RF debug for labs

The RSA600 series instruments including the 3 GHz RSA603A and the 7.5 GHz RSA607A match the performance levels of the portable units, but are designed to use line-cord power and have a desktop form factor. These analyzers are capable of handling a wide range of design applications such as testing Internet of Things (IoT) modules and components using SignalVu-PC measurement packages for everything from Bluetooth LE and Bluetooth EDR to WLAN standards testing through 802.11ac. Antenna and gain/loss testing capabilities help speed system integration.



SignalVu-PC Updates

In conjunction with the new spectrum analyzers, Signal Vu-PC receives an updated user interface to go with a number of new options and capabilities. Among the new options for SignalVu-PC are expanded support for signal classification, channel navigation, and support for mapping. Floating licenses are also now available as well as node locked licenses to give users more flexibility to deploy the software and USB Spectrum Analyzers widely. Record and playback for long signals is also an available feature.



Engineers who need programmatic access to their instrument can choose either the SignalVu-PC programmatic interface or use the included application programming interface (API) that provides a rich set of commands and measurements. Real-time processing capability provided by SignalVu-PC when using recommended PC hardware is about 1,000 times faster than spectrum analyzers from other major suppliers.



Pricing & Availability

The RSA500 and RSA600 Series of USB spectrum analyzers are available now through the global network of Tektronix distributors and partners. US MSRP starts at $5,900 for 3 GHz models and $9,900 for 7.5 GHz models. For more information please go to: http://www.tek.com/usb-spectrum-analyzer.



*These additional features will be supported by software due out in Q2.



Wondering what else Tektronix is up to? Check out the Tektronix Bandwidth Banter blog and stay up to date on the latest news from Tektronix on Twitter and Facebook.



About Tektronix

Headquartered in Beaverton, Oregon, Tektronix delivers innovative, precise and easy-to-operate test, measurement and monitoring solutions that solve problems, unlock insights and drive discovery. Tektronix has been at the forefront of the digital age for over 70 years. Join us on the journey of innovation at TEK.COM.



Tektronix is a registered trademark of Tektronix, Inc. All other trade names referenced are the service marks, trademarks or registered trademarks of their respective companies.



CONTACT:

Amy Higgins

Worldwide PR & Brand Manager

Tektronix

ahiggins@tektronix.com

503.627.6497



Web Site: http://www.tek.com



More from Fluid & Gas Flow Equipment