Real-Time 3D Compositing Engine has IP-based architecture.
Press Release Summary: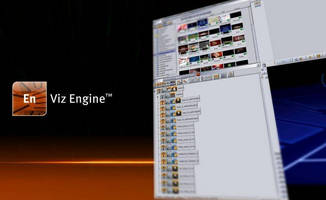 Offering end-to-end IP solution with which broadcasters can manage all their content, Viz Engine(TM) provides capabilities for IP in and IP out as well as real-time compositing of IP streams with graphics. Multiple Viz Engines can render same content and output different formats for multiple platforms, all in real-time. This eliminates need for transcoding to each platform. Stream can be output in any of various formats, from online, to mobile devices, to live on-air.
---
Original Press Release:

Vizrt Introduces the IP-Based Viz Engine



Vizrt Ltd. announced today that the company has developed a new version of its real-time 3D compositing system, Viz Engine. This new version is a renderer capable of IP in and IP out as well as real-time compositing IP streams with graphics in a low cost solution. With IP capability in the new Viz Engine, Vizrt has created a complete end-to-end IP solution for broadcasters to manage all their content.

Broadcasting has traditionally been a SDI world. While formats change - SD, NTSC, PAL, HD - SDI remains a constant. Managing SDI content requires specialized equipment for the management and synchronization of the signal. It also requires a specially trained staff of broadcast engineers.

With an IP based workflow, broadcasting enters the IT world. Instead of SDI cables and routers built through a TV station's infrastructure, one simply needs a network connection to distribute video. Content is becoming file-based so it can be easily stored, searched and distributed. Live video can exist as a stream that can be distributed to multiple platforms.

The latest version of the Viz Engine allows for IP-based streaming video IO. Graphics and video are composited in real-time and output as a stream that can be many formats from online, to mobile devices to live on-air. With no need for an expensive video card, the system takes up less rack space. The IT infrastructure makes it highly portable for OB vans and very affordable for broadcasters.

Multiple Viz Engines can render the same content and output different formats for multiple platforms. All in real-time, eliminating the need for transcoding to each platform.

"This innovative solution changes the traditional SDI workflow of broadcasters to a IP streaming and file-based workflow, allowing them to increase speed and volume while retaining high quality," stated Petter Ole Jakobsen, CTO Vizrt. "The cost of the solution puts the highly capable Viz Engine in the reaches of web-based productions as well as allows broadcasters to bolster their efficiency by directly rendering to any platform during a live broadcast."

About Vizrt:
Vizrt offers a new vision for content creation and delivery with an end-to-end solution from ingest to visualization. Our solution combines Vizrt's true 2D/3D graphics tools with Curious Software's World Maps and Ardendo's Asset Management. Running on non proprietary software, the combination of these unique cutting edge products ensures a seamless workflow from conception to multi-format distribution.
Vizrt's product suite is used by the world's leading broadcasters including: CNN, CBS, Fox, BBC, Sky, ITN, ZDF, Star TV, TV Today, CCTV and NHK. Also, many world-class production houses and corporate institutions, including both the New York and London Stock Exchanges, utilize Vizrt solutions.

Vizrt is a public company traded on the Oslo Main List: VIZ, ISIN: IL0010838154. For further information please refer to www.vizrt.com

Martin Burkhalter / CEO / +41 22 365 75 01 / MBurkhalter@vizrt.com
Ofra Brown / CFO / +47 5351 8040 / OBrown@vizrt.com
Håvard Myklebust / EVP Products & Marketing / +4791845602 / HMyklebust@vizrt.com

Robin Hoffman
Pipeline Communications
Office: (973) 746-6970
Cell: (917) 763-8069
robinhoffman@pipecomm.com

More from Electronic Components & Devices