Ready, Aim, Shoot: Philadelphia Scientific Hits the Bull's Eye With the New Battery Watering GUN-X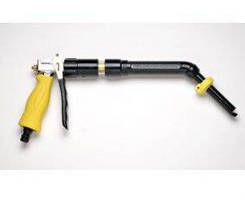 The world's best selling watering gun is now faster and more durable

MONTGOMERYVILLE, Pa., - Philadelphia Scientific, a leading international manufacturer of industrial battery components and accessories, has introduced GUN-X, the newest model of the company's popular battery watering gun. The GUN-X incorporates the best features of all previous models with significant improvements of its own. Among the key new features is the elimination of post shut-off drip, a result of the gun's new performance-enhancing design.

Like previous models of the Philadelphia Scientific watering gun, GUN-X delivers a precise flow rate and provides an inexpensive, faster and safer alternative to manual battery watering. The new watering gun's enhanced, non-electric automatic shutoff facilitates low-cost watering at an even faster fill rate (1.7 GPM) than previous models, resulting in a quick return on investment and less time required to get the job done. When compared to hand watering, Philadelphia Scientific's GUN-X reduces labor costs up to $150 a year for each 18-cell battery.

The GUN-X is ergonomically designed, with a rugged, easy-squeeze handle and a 45-degree-bend nozzle. The new design is more rugged than previous versions due to the elimination of weak points such as the external pressure regulator. It is also lightweight, compact and easy to operate, and it requires less bending over to fill the battery. An integrated flow indicator shows when filling has stopped and a flow diffuser converts the rapid flow to a gentle spray.

"No battery room should be without this essential battery maintenance tool," said Harold Vanasse, vice president of sales and marketing for Philadelphia Scientific. "GUN-X combines an unmatched speed of fill, greater convenience and improved operator safety in a rugged, ergonomic design. It combines everything that customers told us they were looking for in a battery watering gun."

As of September 7, 2010, the Battery Watering Gun (Model: GUN-X) is available for order. For more information on the Battery Watering GUN-X, contact Philadelphia Scientific at 215-616-0390.

About Philadelphia Scientific

Since 1983, Montgomeryville, Pa.-based Philadelphia Scientific has brought advanced technology solutions to the industrial battery industry. The company specializes in the research, design, development and manufacture of industrial battery components and tools that maximize battery performance. For more information about Philadelphia Scientific, visit the company's Web site at www.phlsci.com or contact the company at 215-616-0390.