RCP3/RCA2 Table Type Actuators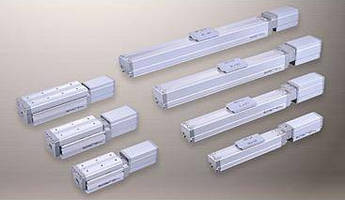 IAI's New RCP3/RCA2 Series Electric Actuators. The motor unit can be switched out simply by removing a single screw. This makes for easy maintenance if the motor should need to be replaced.

Features:

o Table Top Version Offers Increased Moment and Built-In Guide

o Energy Efficient: Running Cost 1/10 that of an air cylinder

o Low Cost: Improving our Technologies Mean Lower Cost to You

o Space Saving: 32mm Ultra Slim Slider

o Easy Replacement: Reduce Downtime with Simple One-Bolt Motor Exchange

Have you been wanting to switch over to the easy to use ROBO Cylinder series?
Now is the perfect chance for you to upgrade to IAI's quality electric linear actuators!

The new RCP3/RCA2 electric actuators have been completely re-engineered, with all new guide, ball screws and servo motor to further improve cost savings and reliability.
As we improve our manufacturing and engineering technology, we were able to price our high-quality electric linear actuators lower than ever. IAI's ROBO Cylinder series offers energy efficiency and reliable operation that many around the world have come to expect, proven by IAI's 56.8% World Market Share for electric linear actuators.

The ease of use, seamless compatibility and a proven track record of IAI's ROBO Cylinder series will provide you and your company more ROI and piece of mind than thought possible.

The New Slim Slider type electric linear actuator is the right solution to applications that require a compact design for use in confined spaces. The SA3 Slim Slider Type is a narrow 32mm and offered up to a 60mm wide version.

Easy Maintenance To Reduce Downtime

The Value of the RCP3/RCA2 Series Electric Actuators doesn't stop at quality and pricing, but also offers improved performance and reliability seen in actuators costing far more. The maintainability of the RCP3/RCP2 series actuators has been engineered to satisfy even the most demanding needs in automation. The motor unit is easily replaced with only a turn of one screw reducing downtime.

More from Robotics