Raydiall & Yazaki Verify Single Pair Ethernet (SPE) Connectors for 1000BASE-T1 with the Support of Rohde & Schwarz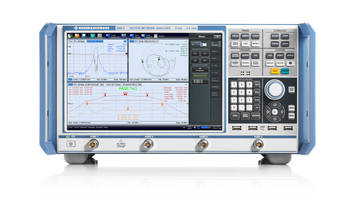 Raydiall, a world leading FAKRA and HSD connector manufacturer for the automotive industry, together with their partner Yazaki, a global automotive parts supplier with focus on wire harness, connectors and other terminals, have developed a Single Pair Ethernet (SPE) connector for 1000BASE-T1 in accordance with the OPEN Alliance TC9 specification. Rohde & Schwarz assisted Raydiall to verify the development and test compliance of such connectors with the use of a R&S ZNB8 4-port vector network analyzer.
Raydiall Automotive have been developing, together with their Japanese partner Yazaki, various automotive ethernet components for the link segment (communication channel) section. Such components are cable assemblies (cable harness and connectors), PCB headers, in-line connectors and the standalone communication channel (SCC). All of them had to undergo extensive testing against the OPEN Alliance (OA) Technical Committee (TC) 9 test specification for 1000BASE-T1 Shielded Twisted Pair (STP) to provide their OEM and Tier1 customers high quality assurance.
In the OA TC9 are several measurements that need to be performed such as return loss (RL), insertion loss (IL), mode conversion (LCL & LCTL) as well as screening and coupling attenuation parameters which represent both emission and immunity of its products. The characteristic impedance measurements (CIDM) are done in the time domain thanks to the R&S ZNB-K2 time domain analysis software option of the R&S ZNB8.
The vector network analyzer from Rohde & Schwarz is the perfect T&M tool to perform tests according to the OA TC9 test specification since it can provide high measurement accuracy as well as support all the necessary frequency and time domain measurements needed. In addition, for in-line and header connectors, the R&S ZNB VNA has integrated the Ataitec ISD software option R&S ZN-K220 which is a unique feature to verify performance of such components according to the OA TC9 test specification.
Adrien Brunet, Product Validation Manager and RF expert at Raydiall said: "We - Raydiall and our partner Yazaki – are very proud to develop and provide innovative solutions for the automotive Ethernet market. Rohde & Schwarz represents a key partner for test & measurement equipment and through their expert team in the field of high frequency data transmission. The Rohde & Schwarz support enables us to reach our ambitions as a leading automotive connector company to improve our driving experience."
Dr. Nik Dimitrakopoulos, Market Segment Manager Automotive at Rohde & Schwarz, stated: "In 2020 we saw the first OEMs using 1000BASE-T1 Automotive Ethernet in their production lines. Raydiall and Yazaki are one of the leading companies that produce high quality cables and connectors for this technology. We are very proud to be part of their success and help Raydiall to verify their components using the R&S ZNB8 VNA. We are committed to provide leading edge solutions in the automotive market and help to ensure a safer and connected world." 
For more information on Automotive Ethernet solutions by Rohde & Schwarz: https://www.rohde-schwarz.com/automotive-ethernet_231832.html 
Press contacts:
Europe (headquarters): Patrizia Muehlbauer (phone: +49 89 4129 0; email: press@rohde-schwarz.com)
North America: Tomas Berghall (phone: +1 503 5239489; email: Tomas.Berghall@rsa.rohde-schwarz.com)
Asia Pacific: Wen Shi Tong (phone: +65 6 307-0029; email: press.apac@rohde-schwarz.com)
Automotive test solutions – Test it, trust it.
As a leading global supplier of test and measurement software, instruments and systems, Rohde & Schwarz applies its market-leading technical expertise to develop innovative solutions through the entire automotive lifecycle from pre-development to production. OEMs, tier1s and chip suppliers around the world rely on the company's proven test solutions for automotive radar, connectivity, infotainment, high-performance computing and EMC. With innovative solutions for the development, integration and production testing of radar, Rohde & Schwarz act as a trusted partner for customers creating the next generation of ADAS / AD systems. The company's long-established expertise in wireless technology ensures robust connectivity in all standards from 5G and C-V2X to UWB, WiFi6 and GNSS. In-Vehicle Networks supporting the latest bus speeds and ECUs like high-performance domain controllers can be developed and debugged, complex EMI issues can be using the test equipment. With decades of experience in EMC testing, Rohde & Schwarz offers test and measurement equipment and customizable turnkey test systems for performing EMI and EMS measurements on vehicles and components in line with all major CISPR and OEM specific EMC standards. They support full vehicle antenna testing and also wireless coexistence testing with using own systems and instruments. The company also offers outstanding solutions for board level tests (ICT/FCT/BS) during ECU production. Partners and customers around the world use these test solutions to ensure automotive components and systems function correctly, coexist successfully and communicate with the outside world without errors.
All press releases, including photos for downloading, are available on the Internet at http://www.press.rohde-schwarz.com.
Raydiall
Raydiall is a joint venture between ARaymond, a world leader in the automotive fastening industry, and Raydiall, a world leader in interconnection solutions. Since 2012, we combine our strenghts and experience to give better and more reliable connectivity solutions to our automotive customers. Combining the technological and industrial expertise acquired by Raydiall in the connector component sector and ARaymond's exceptional knowledge of the automotive market allow us to rapidly create real value for our customers in the automotive sector, in key technological components of the vehicles of the future. We are an innovative high-tech company dedicated to the design, development and manufacturing of automotive interconnection systems. With a specific emphasis on new manufacturing technologies, such as high-speed stamping, 3D printing and plastic metallization, we work with automotive OEMs to bring innovative connectivity solutions to market. www.raydiall.com
Organization Contact:
Raydiall, 30 rue Léon Béridot, 38500 Voiron – France, Sales: +33 (0)476 073 900
Rohde & Schwarz
Rohde & Schwarz is a leading supplier of solutions in the fields of test and measurement, broadcast and media, aerospace | defense | security and networks and cybersecurity. The technology group's innovative communications, information and security products help industry and government customers ensure a safer and connected world. On June 30, 2020, Rohde & Schwarz had about 12,300 employees worldwide. The independent group achieved a net revenue of EUR 2.58 billion in the 2019/2020 fiscal year (July to June). The company is headquartered in Munich, Germany, and has subsidiaries in more than 70 countries, with regional hubs in Asia and America.
Rohde & Schwarz USA, Inc.
6821 Benjamin Franklin Dr, Columbia, MD 21046, USA
Tomas Berghall
Phone: +1-503-523-9489
Tomas.Berghall@rsa.rohde-schwarz.com
https://www.rohde-schwarz.com/us/home_48230.html
More from Agricultural & Farming Products