Mechanical Wire, Cable and Rope
Ravenox Providing Quality Organic Cotton Rope for Oral Swine Testing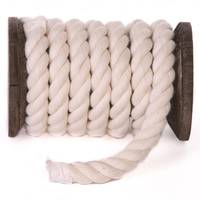 01/30/2020 (Burlington, NC) - Ravenox is pleased to announce that its organic cotton rope is being used for livestock disease prevention, especially with pig populations. This rope can be used to lure the naturally curious pigs to tie, tug, and pull on the rope. Researchers can then collect the oral samples left behind to analyze for wellness or diseases such as Porcine Reproductive and Respiratory Syndrome (PRRS).
In addition to the gentle approach to disease prevention, an added health benefit for the pigs is that they can enjoy playing with the rope without ever going through the stress of any other form of medical extraction.
"Making rope in the heart of North Carolina with cotton grown and spun into yarn in the same state is a huge benefit to pig farmers, most of whom are also here in North Carolina," says Sean Brownlee, CEO of Ravenox. "These farmers were the first to identify viruses like PRRS and have led the way in helping combat future outbreaks. We're proud to be an integral part in identifying and containing future outbreaks."
Ravenox understands that effective swine-related disease control depends upon early identification and the quick removal or isolation of infected animals. Ravenox 100% Triple-Twisted Cotton Rope is comprised of cotton grown right in North Carolina. This rope is organic, undyed, and certified by Cotton Inc. making it an excellent, safe, and effective tool to use to obtain a prompt, definitive diagnosis to fight PRRS, ascertain negative herd status, and protect producer profits.
Ravenox has found that 1/2-inch rope is best for nursery pigs while 5/8-inch is ideal for adult pigs.
For more information, please visit www.ravenox.com.
More from Material Handling & Storage