Automated Guided Vehicle Systems
Ravago Manufacturing Americas Implements Automatic Guided Vehicle (AGV) Solution: Dematic Technology Optimizes New Facility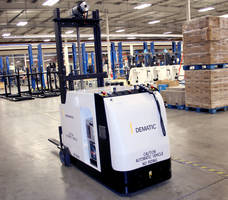 GRAND RAPIDS, MICHIGAN – June 18, 2018 – Dematic, a leading global supplier of integrated automated technology, software and services to optimize the supply chain, announced that Ravago Americas has implemented a Dematic AGV technology solution for its new Resin Packaging and Distribution Facility in Baytown, Texas (near Houston). Ravago is a producer and distributor of a wide range of plastic and rubber materials — from high performance engineered resins to recycled post-consumer materials.
At the facility, Ravago packages resin in bags stacked on pallets. The AGV system automatically picks two full pallet loads at a time from the production lines and delivers them to an aisle handoff location. This replaces a manual process used at previous Ravago facilities.
An automatic battery exchange system ensures the AGVs can operate continuously without human intervention. In addition to the AGVs, the solution includes control software as well as an interface to Ravago's WMS system.
Ravago worked with KION dealer Equipment Depot to select the AGV technology, and this marks the first AGV system implementation from the recently combined Dematic and KION.
For more information about Dematic AGV solutions, visit dematic.com/AGV or contact Cheryl Falk at Cheryl.Falk@dematic.com or 262-860-6715.
About Dematic
Dematic is a leading supplier of integrated automated technology, software and services to optimize the supply chain. Dematic employs over 6,000 skilled logistics professionals to serve its customers globally, with engineering centers and manufacturing facilities located around the world. Dematic is one brand under the KION Group of companies and has implemented more than 6,000 integrated systems for a customer base that includes small, medium and large companies doing business in a variety of market sectors.
Headquartered in Grand Rapids, Michigan, Dematic is a member of KION Group, a global leader in industrial trucks, related services and supply chain solutions. Across more than 100 countries worldwide, the KION Group designs, builds and supports logistics solutions that optimize material and information flow within factories, warehouses and distribution centers. The company is the largest manufacturer of industrial trucks in Europe, the second-largest producer of forklifts globally and a leading provider of warehouse automation.
Press Contact:
Cheryl Falk
Senior Vice President, Global Marketing Communications
Cheryl.Falk@dematic.com
(262) 860-6715
More from Agricultural & Farming Products