Ratchet Wrench works in tight spots.
Press Release Summary: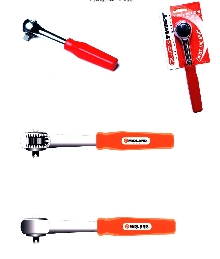 Quick Twist has differential gearing system that turns socket by twisting grip handle, using regular rotation, or using both actions at same time to speed up nut tightening or loosening. Constant drive makes socket spin in selected direction regardless of which way grip is twisted. Direction can be changed via switch mechanism located on top. It has 3/8 in. drive, twin pawls, double ring gears, and meets all ANSI standards.
---
Original Press Release:
What's New? Quick Twist(TM) - The Ultimate Ratchet Wrench!
Imagine, a ratchet wrench that is perfect for working in those tight, hard to maneuver spots. One that will save you from burned and skinned knuckles plus save you time and frustration as it speeds up your ratchet wrench tasks. Quick Twist's patented differential gearing system enables you to turn the socket by twisting the grip handle, or just use the regular rotation as you would normally. Or, use both actions at the same time to really speed up nut tightening or loosening. Quick Twist has constant drive; the socket continues to spin in the selected direction regardless of which way the grip is twisted. The direction can be changed via the switch mechanism located on the top Quick Twist is durable o Twin pawls and double ring gears for added strength o Meets or exceeds all ANSI standards o Professional quality, Lifetime guarantee Fine tooth performance due to 41% more teeth than most ratchet wrenches Zero back swing due to ability to "snug up slack" Currently available in a 3/8" drive, with the 1/4" drive available later in the year, it is expected to retail for approximately $75.00. Midland Design Inc. holds worldwide patents on the QuickTwist(TM) ratchet wrench. A wrench that doesn't just add to current ratchets, it replaces them. Please find attached our brochure outlining additional information about our ratchet wrench, or please visit our website at quicktwist.ca. I would greatly appreciate your consideration of featuring our product in the "what's new" section of your magazine. This tool is truly amazing and offers huge value to auto mechanics, refrigeration repairman, body shops, marine repair depots and the list goes on forever! Please contact me if you require any further information. Thanks for your consideration. Yours truly, Midland Design Inc. Gary Clarke General Manager # 210 - 347 Leon Avenue, Kelowna, BC V1Y 8C7 Canada Tel: (250)763.4442 Fax: (360)838.8696 Email: garyclarke@shaw.com