Rapid Vibration-proof Connection with Just One Click – M12 PushPull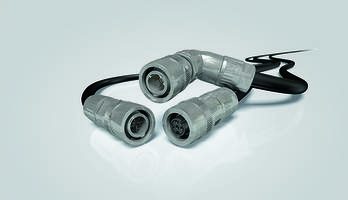 Elgin, IL – January 24, 2017 - Simple and reliable connectivity with fast and easy connection in high vibration environments – this is the idea behind the HARTING M12 PushPull. The M12 PushPull brings the benefits of the HARTING PushPull in the form factor of an M12.
The connector's robust housing and reliable locking system makes it perfectly suited in harsh, heavy vibration environments. An audible click indicates when connection is made and simple assembly that requires no special tools means installation in the field quick and easy. The M12 PushPull saves space by eliminating the need for additional access space for screwing the connector into position. The design also includes knurling on the side of the connector ensuring easy handling.
The M12 PushPull boasts an IP67 rating and is suited for temperatures ranging from from -40°C up to +85°C. It is available in A, D, and X-code versions and is suitable for Class EA up to 10 GB for the 8-poles X-coded version. It features 360° shielding and uses crimp termination.
About HARTING
The HARTING Technology Group, family owned and based in Germany, employs more than 4,300 people globally with subsidiaries and branch offices in 40 countries. With production facilities in Europe, Asia, Mexico and the United States, the HARTING portfolio of connectivity solutions focuses on multiple levels, from the machine to the device and into the communication infrastructure. The U.S. facility in Elgin, Illinois is one of three HARTING locations that manufactures the HIS product line (HARTING Integrated Solutions - backplanes) and custom cable assemblies. The company's core business is intelligent and high-performance connection technology. HARTING works in almost all industrial markets with a focus on requirements for robust, reliable connectivity solutions.
Media Contacts:
Christina Chatfield,
VP Digital Strategy & Marketing Communications
HARTING North America
1370 Bowes Road
Elgin, IL 60123, USA
+1 (847) 717-9217
christina.chatfield@HARTING.com