Additive Manufacturing Services
Rapid Fastener Prototyping offers production-ready checks.
Press Release Summary: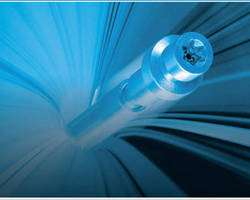 Fastener Express offers end-to-end concept that allows complex fastener components and precision parts to be developed as prototypes and manufactured later in large volumes as production-ready parts. Production Ready check determines whether subsequent production-ready part will be turned or molded, Direct Acceptance process eliminates typical request delay times, and simultaneous transformation of 3D CAD data into physical products eliminates tooling design and procurement steps.
---
Original Press Release:

Fastener Express: Effective Rapid Prototyping Concept



Fastener Express closes the gap between development and regular production. With its Fastener Express method, for the first time Arnold Umformtechnik offers designers an end-to-end concept that allows highly complex fastener components and precision parts to be developed quickly as prototypes and manufactured later as production-ready parts with the same technical properties and cost-effectiveness for large volume production.

Nowadays for new cars the elapsed time between the first sketch on the drawing board and the start of regular series production is little more than 30 months. Nearly half of the time previously required has been eliminated, thanks to the systematic optimisation of the entire supply chain for automobile production, which has now reached the small-parts level as screws, bolts, turned parts and precision parts. In the past, development departments had to reckon on development times of up to 30 weeks for special solutions in this area.

Production Ready check
As early as the development phase, Arnold´s Fastener Express team carries out the Production Ready check to determine whether the subsequent production-ready part will be a turned part or a moulded part. This decision has major ramifications in terms of potential cost savings. Many turned parts can be converted to more economical moulded parts during the transition from the prototype phase to volume production.

Direct acceptance
A specially formed rapid prototyping team eliminates the lost time that usually arises from administrative processes. The established Direct Acceptance process systematically eliminates request delay times typical in the industry. Instead of a wait for handling, order receipt automatically triggers a prompt technical evaluation of factors such as using typical fastener materials or testing the mechanical properties of the joint.

Product quality
Additional time savings with the Arnold method arise from the simultaneous transformation of 3D CAD data into physical products. The time-consuming steps of tooling design and tooling procurement are entirely eliminated. Blanks go directly to machining, where they are turned as production-ready parts and sent to finishing. A wide variety of finishing options are available in-house, including heat treatment and electroplating, making time-consuming and costly liaison with external service providers unnecessary. This quasi-simultaneous method ensures a high level of quality in converting designs to products.

By manufacturing prototype functional parts with production-ready properties, Arnold meets the growing demand for functional prototyping. "We produce highly complex fastener components in volumes up to 3,000 pieces with the same properties as flow moulded parts for volume production, in one-quarter of the time", is how Michael Pult, Manager Marketing & Communications at Arnold Umformtechnik, summarises the advantages of Fastener Express. "With this capability we support the entire value chain from the product development process to volume production delivery and further."

More from Electrical Equipment & Systems