Range Meter simplifies measuring and recording tasks.
Press Release Summary: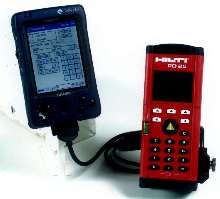 Model PD 25 Laser Range Meter and PocketCAD PRO combine to precisely record as-built, work-site conditions and compare with current plans and drawings. Meter allows one user to measure and record distances to over 300 ft with accuracy of 1/8 in. It automatically connects to PocketCAD PRO, eliminating need for handwritten figures. Model PD 25 calculates surface and volume, gauges set-out distances, measures to inaccessible points, and measures angles and slopes.
---
Original Press Release:

Digital Accuracy, Integrated Convenience


HILTI'S NEW PD 25 LASER RANGE METER & ARC SECOND'S POCKETCAD PRO COMBINE TO DELIVER INTEGRATED, HANDHELD MEASUREMENT SOLUTION

TULSA, (OK)-For architects and engineers, construction professionals and space planners, accurate measurements are more than a job requirement. They're also the key to productivity, performance and cost management. To help deliver enhanced accuracy and efficiency, Hilti has teamed with Arc Second, Inc., the leading provider of mobile CAD solutions, to create an integrated, handheld resource to conveniently and precisely record "as built" work site conditions.

The new resource combines Hilti's PD 25 Laser Range Meter and Arc Second's PocketCAD PRO to deliver measurement accuracy and total mobility in one smart package. With its lightweight design, quick and reliable distance measuring, and one-person operation, the PD 25 Laser Range Meter is the ideal device to record precise distance measurements.

Dimension #1: Accuracy

Hilti's new PD 25 Laser Range Meter offers unparalleled precision and the ability for one individual to easily measure and record all required dimensions. The PD 25 Laser Range Meter measures distances to over 300 ft. (100 m.) with an accuracy of 1/8 in. (3 mm.). Since CAD drawings based on accurate as-built site conditions are critical for design and construction productivity, the precise, easy-to-use PD 25-PocketCAD PRO package helps ensure improved performance, quality and accuracy.

Dimension #2: Convenience

Calculating "as built" conditions traditionally required two or more individuals, ungainly measuring devices and handwritten notes. There was room for inconsistent data, ineligible notations and incomplete records. Now, the new PD 25 Laser Range Meter replaces awkward and less accurate tape measurers, chalk lines and gauges. It turns most measuring applications into a one-person task. And, since it automatically connects to the PocketCAD PRO, it also eliminates the need to handwrite figures or the likelihood of overlooking individual measurements. The result? Greater convenience, time and labor savings and timely work site performance.

Dimension #3: Efficiency

In addition to traditional length and distance measurements, the PD 25 Laser Range Meter can also calculate surface and volume, gauge set out distances, measure to inaccessible points, measure angles and slopes as well as identify and store measured values. The PD 25 can also produce job estimations and quality control specifications.

With its broad functionality, lightweight design and integration with PocketCAD PRO, the PD 25 is an indispensable addition to any work site:

o Fully integrated solution for architects, engineers, construction professionals, space planners and facility managers
o Compare as-built dimensions with current plans and drawings
o Record measurements during site inspections
o Instantly modify CAD drawings in the field
o Save time by electronically capturing and converting data
o Eliminate need for ungainly, inconvenient measuring devices

About Hilti, Inc.
Hilti is a world-leading manufacturer and supplier of quality, innovative and specialized tools and fastening systems for the professional user. With 700 highly trained Hilti field representatives throughout North America and an additional 1300 Hilti employees nationwide. Hilti expertise covers the areas of powder-actuated fastening, drilling and demolition, diamond coring and cutting, laser positioning and measuring, firestopping, screw fastening, adhesive and mechanical anchoring, and strut and hanger systems. More information on Hilti products and solutions can be found at www.us.hilti.com or www.ca.hilti.com.

About Arc Second, Inc.
Arc Second develops, manufactures and markets 3D-Intelligence® measurement and tracking products and mobile CAD software solutions. Arc Second markets its products to the construction, architecture, manufacturing, product design, forensics, aerospace, virtual reality and movie special effects sectors. For more information about Arc Second. go to www.arcsecond.com. For more information about PocketCAD, go to pocketcad.com

*Some Limitations apply. Contact Hilti for details.

More from Electronic Components & Devices