Random Incidence Microphone minimizes overloading.
Press Release Summary: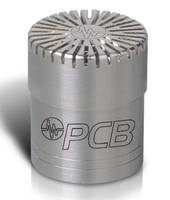 With 3 Hz to 25 kHz frequency range, ½ in. Model 377A21 provides accurate response in diffuse field applications where frequencies above human audible range need to be measured precisely. Device avoids overloads that can be experienced when standard high sensitivity microphones measure pressure over 136 dB. Measuring up to 160 dB while maintaining 19 dBA noise floor, Model 377A21 is suited for automotive cabin noise measurement, environmental monitoring, and reverberation room testing.
---
Original Press Release:

New Microphone Measures Entire Human Audible Range and Beyond



Random incidence, high frequency, ½" microphone minimizes overloading



Depew, New York – An industry exclusive new ½" (6mm) random incidence microphone, model 377A21 from PCB Piezotronics, Inc. provides accurate response in diffuse field applications where high frequencies, above the human audible range, need to be measured precisely.



In a diffuse field, multiple sound pressure waves arrive from various directions simultaneously, from different sources and reflections. The random incidence microphone averages this acoustic input to give an accurate measurement.  Due to multiple reflective surfaces in aircraft and automobiles, these microphones are often used to measure cabin noise. Manufacturers assess sound quality to make product improvements that minimize the noise levels that passengers are exposed to. Other common applications for this microphone include environmental monitoring, room acoustics, reverberation room testing and general high pressure and high frequency diffuse field analysis.



The 377A21 frequency range, 3 Hz to 25 kHz, not only exceeds the audible range it also avoids overload that can be experienced when a standard high sensitivity (50 mV/Pa) microphones measure pressure over 136 dB. The 377A21 measures up to 160 dB (147 dB with a standard preamplifier) in a  ½" package, while maintaining a 19 dBA noise floor. This microphone is a cost effective alternative to a ¼" microphone and preamplifier combination and has a much lower inherent noise.



PCB® carries a full complement of prepolarized and externally polarized condenser microphones and preamplifiers. Prepolarized microphones use standard coaxial cables and are ICP® compliant, allowing power supplies to be shared with other ICP® compliant products such as accelerometers, pressure and force sensors. This interchangeability can result in a significant per-channel cost savings as well as reduce test set-up time. PCB products are backed by our best in class warranty and Total Customer Satisfaction policy.



Model 377A21 is a stock item and available for immediate shipment. For additional information please visit www.pcb.com/acoustics or contact Mark Valentino, Product Manager, at (866) 816-8892 or email at mvalentino@pcb.com.



1/2 inch High Amplitude, High Frequency  Microphone Cartridge (Model 377A06)

PCB® 1/2" random incidence, high frequency microphone, model 377A21



About PCB Piezotronics, Inc.

PCB Piezotronics, Inc. is a global manufacturer of  microphones, vibration, pressure, force, torque, load, and strain sensors, as well as the pioneer of ICP® technology. This instrumentation is used for test, measurement, monitoring, and control requirements in automotive, aerospace, industrial, R&D, military, educational, commercial, OEM applications, and more.  With a customer support team of more than 30 Customer Service Representatives and Application Engineers, PCB proudly stands behind their products with the services you value most, including 24-hour technical support, a global distribution network, a best in class warranty and Total Customer Satisfaction. Our Platinum Products program is one way PCB ensures fast delivery with over 10,000 sensors in stock and covered by a Lifetime Warranty.  Visit us at www.pcb.com for more details, including our Terms and Conditions.



PCB® and ICP® are registered trademarks of PCB Group, Inc.



For media inquiries please contact:

Tina McKean

Marketing

(800) 828-8840

tmckean@pcb.com

More from Electronic Components & Devices