Rampart Products Develops Next Generation HPHT Electrical Connector Using VICTREX™ PAEK Polymer to Reduce Downtime and System Costs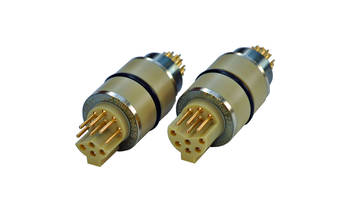 WEST CONSHOHOCKEN, PA USA - (December 12, 2016) – Oil and gas electrical connector specialist Rampart Products has specified VICTREX HT™ polymer for a new HPHT (high pressure-high temperature) KTK (Kintec*) electrical connector for the efficient and safe transmission of power and data during the drilling process. Used in oilfield equipment, the reliability of the multi-pin connector is crucial to reducing costly downtime. The material as well as the connector has been tested beyond industry standards in real-world environment simulations. During material selection and the development of the molding process, both companies worked closely together, enabling Rampart to introduce its first connector using VICTREX PAEK polymer.
As oil reserves continue to be depleted, the industry is being forced to find oil in unconventional places that can expose equipment and components to higher temperatures and pressures as well as aggressive corrosive elements. "Customers using epoxy connectors face a couple of potential issues," explains Ed Beshoory, President of Rampart Products. "Consequently, we were looking into high performing materials capable of meeting multiple requirements. As a result, we are now using for the first time a Victrex material, VICTREX HT polymer, due to its consistent properties and processing. The education and processing support Victrex provided in the development phase have convinced us to also look at other Victrex high performing polymers for future applications, enabling us to offer connectors with the performance properties we are looking for."
The new connector had to be rated for temperatures beyond 400°F (200°C) and pressures at 20,000 psi (1380 bar) providing also a reliable electrical connection while protecting expensive sensors and electronics. Additional requirements included compatibility with industry-standard pin patterns, extended mating cycles and assembly efficiencies. To prove the reliability of the multi-pin connector made with the Victrex material, Rampart gained data from using a new test vessel. It allows real-world operational settings to test the performance at both high temperature and high pressure simultaneously in a precise manner. Alternative evaluation strategies might typically be to test the connector at an appropriate temperature but at minimal pressure, or at high pressure and room temperature.
Going beyond standard testing protocols, such as NORSOK and ISO, is familiar to Victrex. In doing so the company is supporting the industry to better understand how VICTREX PAEK materials operate in harsh environments. "Victrex typically tests polymers for longer, that is for more hours, and in real-world condition simulations such as higher temperatures and more aggressive chemical environments than those prescribed by the test protocols," says Dr Geoff Small, Energy Market Technology Manager at Victrex. "This provides a better prediction of how the polymer will perform in various conditions to contribute to the development of reliable applications."
Traditionally, glass-reinforced epoxy (thermoset) was used in the KTK electrical connector market. However, using this material can result in cracking and chipping, requiring oil service companies to replace the connectors. Rampart Products reported that the VICTREX HT connector has more than twice the impact resistance of the glass-reinforced epoxy constructed connectors which provides greater reliability in use by reducing cracking and chipping. Connectors made from Victrex´s high performing polymer can provide more stability in the drilling process by enabling the reliable transmission of power and data to the tool, compared to incumbent solutions. In addition, the vibrations within the tool can cause dust to be generated from the epoxy connectors which may cause electrical shortages and costly downtime.
"In addition to finding the right material, an equally important key benefit for the industry is efficient manufacturing. The VICTREX HT polymer facilitated that through rapid injection molding. "Victrex provides expert assistance with molding their materials, thus reducing development cycle time and allowing us to further push the performance envelope," concludes Ed Beshoory, President of Rampart Products. Beyond the upstream drilling market segment, Rampart believes their line of electrical connectors can be used in subsea environments and in military applications.
Oilfield drilling equipment, particularly MWD (Measure While Drilling) tensor systems, typically require 7-14 KTK connectors. The electrical connectors made from the Victrex material can also be used in LWD (Logging While Drilling) tools, and downhole battery pack assemblies. VICTREX HT polymers were designed to maintain excellent mechanical properties at elevated temperatures, pressures and in harsh chemicals and provide an overall performance profile beyond that of VICTREX 450G™ PEEK polymer, a high-performance polymer frequently used throughout the industry.
For more information, please visit www.victrex.com/en/energy.
* KTK stands for Kintec. The split-interface design was originally designed in 1992 by Kintec, Inc. and manufactured for Tensor, Inc.
** PAEK, polyaryletherketone, is a family of high-performance thermoplastics, such as VICTREXTM PEEK
About Victrex
Based in the UK, Victrex is an innovative, leading global provider of high-performance polymer solutions for the aerospace, automotive, electronics, energy and medical industries. Every day, millions of people use products and applications containing our polymers – from smart phones, aircraft and cars all the way to medical devices via oil and gas installations. With over 35 years' experience, we provide cutting-edge technological solutions that shape future performance for our customers and markets, and drive value for our shareholders. Further information is available online at www.victrex.com.
About Rampart Products
Located in Houston, Texas, Rampart Products was born from a desire to provide great customer service with a reasonable delivery time to those in need of HPHT electrical connectors. Rampart's team is comprised of individuals who offer decades of engineering experience in the oil and gas industry. Skill sets range from designing complete downhole tool systems to creating efficient manufacturing processes, along with in-depth knowledge of engineering design and manufacturing of HPHT electrical connectors.
For more information, please visit www.rampartproducts.com.
Contact:  
Kris Jommersbach
Gemini Communications
PH: + (1) 610-935-163
More from Cleaning Products & Equipment