Railroad Car Vibrator employs pressure lock system.
Press Release Summary: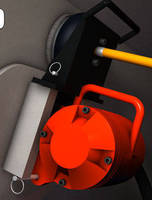 As universal wedge solution, VIBCO Rail Boss(TM) (SVRWS-6500AW) Pressure Lock System secures vibrator into railcar pocket to deliver positive contact for 100% vibration transfer. Vibrator will not move once it locks in place, and system also completely eliminates noise associated with railcar rattling in pocket. It will not stick in female wedge pocket, and full vibration transfer lends to efficient use of compressed air.
---
Original Press Release:

VibcoVibrators Introduces the Rail Boss(TM) SVRWS-6500AW: a Brand New Concept Railroad Car Vibrator Guaranteed to Work



The VIBCO Rail Boss(TM) SVRWS-6500AW is a new concept in pneumatic railroad car vibration that finally solves the most common problems associated with railcar vibrators - loss of vibration transfer, noise, and vibrators getting stuck in the pocket. The VIBCO Rail Boss(TM) is the solution that railcar vibrator users have been dreaming about!

"The guys that use railroad car shakers have been begging us to come up with a universal wedge solution that actually solves the noise and vibration transfer problems. The Rail Boss(TM) is exactly that solution," says Karl Wadensten, VIBCO President. "We've developed some good vibrators over the years that have came close, but unique wear patterns and variability in pocket designs were tough problems that kept bringing us back to the drawing board. I'm really excited about this revolutionary new design."

The VIBCO Rail Boss(TM) (patent pending) Pressure Lock System secures the vibrator into the railcar pocket to provide 100% vibration transfer - the vibrator simply will not move once it locks in place.

Field tests show that a typical railroad car vibrator can lose up to 60% of its vibration transfer and, due to rattling, produce noise up to 110 dB. Over time, wear in the pocket and on the vibrator wedge can further degrade the fit and cause even more vibration loss. The VIBCO Rail Boss(TM) is guaranteed to eliminate these problems.

An additional benefit of VIBCO's patent-pending Pressure Lock design is that it will not stick in the female wedge pocket. A typical railcar vibrator works itself down into the pocket and can be very difficult to remove after vibration. VIBCO's unique Rail Boss(TM) Pressure Lock design ensures that the vibrator will be loose and easy to remove after use.

The key benefits of the VIBCO Rail Boss(TM) Vibrator are:

Positive contact for 100% vibration transfer every time

Pressure Lock system completely eliminates the noise associated with a railcar rattling in the pocket

Full vibration transfer means more efficient use of compressed air and faster, more complete railcar unloading or better compaction for full capacity loading

Pressure Lock system ensures easy removal of the vibrator after use

See for yourself! Watch a video to see the VIBCO Rail Boss(TM) in action at http://www.youtube.com/watch?v=FWvNZEgp8Jg

The VIBCO Vibrators Rail Boss(TM) Vibrator is sold through distribution and retails for approximately $1,400.

About VIBCO Vibrators
Founded in 1962, VIBCO Vibrators designs, manufacturers and markets a comprehensive range of electric, pneumatic and hydraulic vibrators for construction and industrial use. VIBCO Vibrators also designs, manufactures and markets a complete line of vibratory plate compactors and rollers. All standard VIBCO products are available from stock same or next day and the company is committed to quality, throughput and innovation. VIBCO Vibrators is headquartered in Wyoming, RI, USA.

Toll Free in US:(800) 633-0032 Toll Free in Canada: (800) 465-9709 Email: vibrators@vibco.com Web: www.vibco.com

VIBCO, We're the Expert Vibrator Guys.TM

More from Health, Medical, & Dental Supplies and Equipment