Railcar Opener provides 2,700 ft-lb of torque at 90 psi.
Press Release Summary: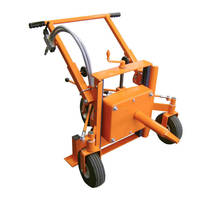 Designed for opening discharge gates on bottom-dump railroad hopper cars, MARTIN® Railcar Opener features pivoting wheels that allow unit to roll along track to maintain contact with traveling capstan of rack-and-pinion on AAR S-233-92 standard hopper car gates. Adjustable cart base allows single worker to maneuver unit through tight spaces. Unit provides smooth and non-impacting output force to open gates without damaging car mechanisms.
---
Original Press Release:

Martin Engineering Improves Railcar Opener



May 5, 2009

Pivoting wheels allow unit to move, improving mating to railcar bottom

(Neponset IL)-To improve the unit's ability to stay in contact with railcar gates featuring rack-and-pinion opening mechanisms, Martin Engineering, the leading international supplier of systems and services to improve the handling of bulk materials, has introduced an improved version of its MARTIN® Railcar Opener.

Used to open the discharge gates on bottom-dump railroad hopper cars, the MARTIN® Railcar Opener will improve unloading efficiency and reduce safety risks for personnel.

The improved MARTIN® Railcar Opener features pivoting wheels that allow the unit to roll along the track to maintain contact with the traveling capstan of rack-and-pinion on AAR S-233-92 standard hopper car gates.

The MARTIN® Railcar Opener provides 2700 ft-lb (3661 N-m) of torque at 90 psi (6.2 bar) to open the most stubborn hopper car gates. The output force is smooth and non-impacting to open gates without damaging car mechanisms.

The MARTIN® Railcar Opener adjustable cart base allows one worker to maneuver the opener through tight spaces. Unit height can be adjusted to meet the gate mechanism regardless of ground conditions at the unloading site.

Martin Engineering offers other technologies to improve the unloading of bottom dumping hopper cars. BOOT-LIFT® Railcar Connectors funnel material to a plant's under-track system, preventing wind loss and eliminating the safety hazard of requiring workers to crawl under the railcar. MARTIN® Railcar Vibrators boost the flow rate of materials compacted by long-distance travel.

For more information on the improved MARTIN® Railcar Opener, visit www.martin-eng.com, or email info@martin-eng.com.

Founded in 1944, Martin Engineering is the world leader in making bulk materials handling cleaner, safer, and more productive. Martin Engineering technologies control dust and spillage from belt conveyors and promote the movement of bulk solids from storage and through industrial processes. With corporate offices in Neponset, Illinois, the privately-held company reaches around the world with operations in Australia, Brazil, Canada, Chile, China, France, Germany, India, Indonesia, Japan, Mexico, South Africa, Turkey, and the United Kingdom. MARTIN® Products and Services are also available from authorized representatives around the world.

CONTACT:

Chelsea Blake

(309) 594-2384 Ext. 518

or chelseac@martin-eng.com

More from Materials