Rail Crane handles multiple railroad tasks.
Press Release Summary: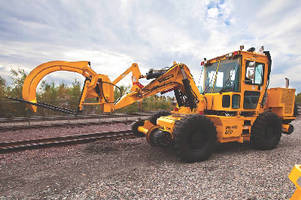 Powered by 163 hp Cummins QSB4.5 Tier 4 diesel engine, Speed Swing 445F offers precise hydraulic engineering and ample power to lay rails, set ties, and perform numerous other tasks. Machine features Dana T20000 3-speed transmission with twist grip electric shift control. Traveling at 25 mph on Hi-rail and 20 mph with all-terrain rubber tires, Speed Swing 445F offers front load capacity of 10,000 lb, side load capacity up to 8,000 lb, and 180° boom rotation.
---
Original Press Release:

Pettibone's New Speed Swing 445F Designed for Multiple Rail Tasks



BARAGA, Mich. – Updating the innovative design of the industry's original do-it-all rail crane, Pettibone introduces the Speed Swing 445F. Designed to be versatile for multiple railroad service applications, the 445F offers precise hydraulic engineering and ample power to lay rails, set ties, and perform numerous other tasks.



Powered by a 163-horsepower Cummins QSB4.5 Tier 4 diesel engine that offers fuel savings up to 10-percent over the previous model, the Speed Swing 445F features a Dana T20000 3-speed transmission with twist grip electric shift control that delivers exceptional torque. The machine has an impressive front load capacity of 10,000 pounds and side load capacity up to 8,000 pounds.



Operators can move the Speed Swing between jobsites quickly, traveling at 25 mph on Hi-rail and 20 mph with all-terrain rubber tires. The tires – along with four-wheel drive with a rear wheel disconnect – also allow greater maneuverability off the rails to simplify most jobs. Four-wheel outboard dry disc service brakes provide sure stopping power.



Providing 180-degree boom rotation, the 445F is primarily used to thread out old rail and thread in new rail. An optional magnet package quickly cleans up old plates, spikes and small pieces of rail. The unit can also tow rail carts, move rail cars and supply air or hydraulics for hand tools.



Durably built for the challenges of the railroad, the Speed Swing is designed to simplify service and maximize uptime. A ROPS/FOPS tilting cab and tilt engine enclosure provide direct access to service points and machine components. Additionally, an engine block heater keeps the machine working reliably in cold weather conditions.



The spacious, climate-controlled operator cab includes a digital IQAN display module, full instrumentation panel and precise, pilot-operated controls. Tinted safety glass and a rearview camera help ensure safe operation at all times.



The Speed Swing 445F can be built to meet customer specifications for particular applications. Common options and attachments include a tote boom, hydraulic tool circuit, magnet package, AAR coupler, track cleaning bucket, load bucket, 20-foot extendable boom, fork frame, backhoe, brush cutter, snow plow, and many more.



Pettibone/Traverse Lift, LLC is part of the Pettibone, LLC Heavy Equipment Group. Founded in 1881, Pettibone has been recognized as the industry leader in material handling equipment since the company revolutionized the industry with the first forward-reaching, rough-terrain machines in the 1940s. For more information, call 906-353-4800 or 800-467-3884, or visit www.gopettibone.com.



Contact:

Mike Crummy

701-492-9194

mike@promersberger.com





More from Communication Systems & Equipment