RAID Systems deliver up to 780K IOPS.
Press Release Summary: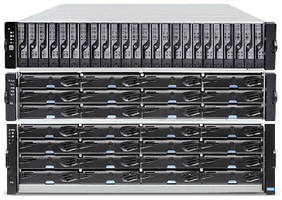 Providing read and write speeds up to 5,500 MBps and 1,900 MBps, respectively, EonStor DS 2000 RAID Systems are suited for I/O-intensive applications, such as Microsoft SQL, Microsoft Exchange, customer relationship management, Oracle Database, SAP, and virtual desktop infrastructure. Systems offer multi-level automated storage tiering, SSD wear indication, remote replication, and self-encrypting drive compatibility to optimize data security.
---
Original Press Release:

Infortrend Launches EonStor DS 2000 Series for Database and VDI Ecosystems



Best application-optimized performance among entry-level enterprise storage solutions



TAIPEI, – Infortrend® (Public TPE: 2495) today announced EonStor DS 2000 RAID systems, which deliver up to 780K IOPS to outperform other entry-level enterprise storage on the market. They are ideal for I/O-intensive applications such as Microsoft SQL, Microsoft Exchange, customer relationship management (CRM), Oracle Database, SAP, and virtual desktop infrastructure (VDI).



Thanks to hardware and firmware optimization, EonStor DS 2000 RAID systems deliver up to 780K IOPS, 5,500MB/s read, and 1,900MB/s write. Relative to their pricing, these capabilities ensure an attractive cost-performance proposition for businesses looking to implement fast, reliable, and responsive databases and VDI as essential workflow elements. Additionally, EonStor DS 2000 systems support SSD Cache to boost cache read IOPS by up to 16 times and reduce response time by up to 88%.



EonStor DS 2000 systems provide budget-conscious businesses affordable access to leading performance with extensive enterprise-class data services. These include multi-level automated storage tiering to leverage capacity and drive speed, SSD wear indication to pre-empt disk failure, and remote replication, which offers convenient disaster recovery. SED (self-encrypting drive) compatibility helps assure vastly enhanced data security.



"At Infortrend, we have a clear message for SMBs: you don't need to compromise performance or any other aspect of storage, especially for database and VDI applications. You deserve better storage and you can find it with Infortrend EonStor DS 2000 RAID systems," commented Thomas Kao, Senior Director of Product Planning at Infortrend.



More information can be found here.



About Infortrend

Infortrend (Public TPE: 2495) has been developing and manufacturing storage solutions for businesses and organizations since 1993. Innovation joins impeccable quality thanks to a passionate team of professionals and an emphasis on in-house design, testing, and manufacturing. Infortrend storage delivers performance and scalability with the latest standards, backed by user friendly data services, personal after-sales support, and unmatched value. Core product families are EonStor DS, EonNAS, and ESVA. For more Information, please visit www.infortrend.com .



Infortrend®, EonStor®, EonNAS®, and ESVA® are trademarks or registered trademarks of Infortrend Technology, Inc., other trademarks property of their respective owners.



CONTACT:

Infortrend Europe Ltd.

Rina Lin

Tel:+44-1256-305-220

E-mail: marketing.eu@infortrend.com

Related