Gas and Chemical Sensors / Detectors
Radius(TM) BZ1 Area Monitor featuring LENS(TM) Wireless communication system..
Press Release Summary: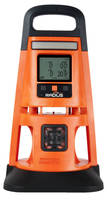 Enhancing worker safety by sharing alarms and gas readings between monitors, the Radius BZ1 uses LENS wireless peer to peer communication system to keep the workers alert and take proper action based on the level of gas leakage. Having a run time of 7 days at hazard communication and connectivity, monitor can detect upto seven gases. SafeCore Module in Radius BZ1 allows calibrating, managing settings, and updating software using the DSX™ Docking Station.
---
Original Press Release:
Industrial Scientific Introduces the Radius(TM) BZ1 Area Monitor with LENS(TM) Wireless
Industrial Scientific, the global leader in gas detection is pleased to introduce the Radius™ BZ1 Area Monitor. The rugged, transportable Radius BZ1 provides an industry-leading run time of 7 days (168 continuous hours) while excelling at hazard communication, connectivity, and ease of use.

When a gas hazard occurs, the Radius BZ1 ensures that workers in industrial environments not only know that the instrument is alarming, but why, thanks to distinctive audio and visual cues and an extra-large display. Custom alarm action messages allow workers to focus on taking appropriate action depending on the present gas level.

With the Radius BZ1, Industrial Scientific is launching a proprietary wireless platform called LENS™ Wireless. LENS Wireless is a peer-to-peer communication system that enhances worker safety by sharing alarms and gas readings between monitors. LENS Wireless works out of the box, forming a network automatically without the need for a central controller, IT setup, or infrastructure. The simplicity of deploying and using LENS Wireless helps workers to respond faster, and with real-time information, when gas emergencies occur.

The design of the Radius BZ1 also makes the instrument easy to maintain thanks to its intuitive, text-based navigation and the removable, patent-pending SafeCore™ Module. The SafeCore Module allows safety personnel to automatically bump test, calibrate, manage settings, and update software using the DSX™ Docking Station. The interchangeable nature of the SafeCore Module lets instrument owners have a smaller, rotating fleet to ensure continuous gas detection coverage in the field.

"We are looking to redefine area monitoring by making it simpler for the user, yet more sophisticated in terms of the connectivity and safety features it provides," said Justin McElhattan, president and CEO.

For more information on the Radius BZ1, visit www.indsci.com/radius.

About Industrial Scientific Corporation

As the global leader in gas detection, Industrial Scientific provides gas detection products and services that keep workers safe in hazardous environments. The company's 700 employees in 21 countries are committed to preserving human life, and have dedicated their careers to ending death on the job in this century. Established in 1985 and headquartered in Pittsburgh (USA), Industrial Scientific also has operations based in Arras (France) and Shanghai (China), and provides technical services to customers from local service centers around the world. Industrial Scientific is the parent company to Predictive Solutions Corporation (www.predictivesolutions.com). For more information, visit www.indsci.com.

Media Contacts:

Chris Lange
Director of Marketing, Americas & EMEA
1-800-DETECTS or (412) 788-4353
clange@indsci.com

Liz Keblusek
Corporate Communications Specialist
1-800-DETECTS or (412) 788-4353
ekeblusek@indsci.com

Industrial Scientific Corporation

1 Life Way Pittsburgh,
PA 15205-7500,USA
Phone: (412) 788-4353
1-800-DETECTS (338-3287)
www.indsci.com
Related