Radius Internal Cylindrical Grinders handle large workpieces.
Press Release Summary: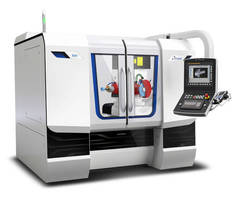 With workhead on simultaneously swiveling B-axis, STUDER S121, S131, and S141 offer thermal stability, mechanical rigidity, and interpolation from -60° to +90°. Machines also have dressing spindle or fixed dresser on B-axis and measuring probe on grinding head. X and Z axes are in cross-slide arrangement or cross slide with model-dependent spindle/turret configuration. Respectively, max part length and max workpiece weight (including clamping device) are 11.8 in. and is 220 lb for all machines.
---
Original Press Release:

New Radius Internal Cylindrical Grinding Machines Added to STUDER Line



MIAMISBURG, Ohio – UNITED GRINDING has added three new radius internal cylindrical grinding machines to its line of STUDER internal cylindrical grinding machines. The S121, S131 and S141 replace STUDER's CT700 and CT900 models and extend part production capabilities by offering more advanced technology, a new dressing concept and larger size machine to handle a broader range of workpieces.



With a workhead on a newly arranged simultaneously swiveling B-axis, the S121, S131 and S141 radius grinding machines offer greater thermal stability, mechanical rigidity and interpolation from -60° to +90°. The machines are also equipped with a dressing spindle or a fixed dresser on the B-axis and a measuring probe on the grinding head.



The new machines feature Granitan® machine beds which provide higher damping levels, thermal stability and guidance accuracy. The StuderGuide® guideway and drive system with linear motors provide high wear resistance, a long working life and high dynamics. It also includes X and Z-axes in a cross-slide arrangement as well as a cross slide, which in the case of the S121 can take one spindle, two spindles in parallel or two spindles on a hydraulic turret. In the S131 and S141 machines, the cross slide comes with a four-position turret with direct drive. The spindles on the radius grinding machines are arranged at the rear of the turret.



Each of the three radius internal cylindrical grinding machines is powered by StuderSIM software that enables an operator to machine complex parts – often in a single clamping. StuderSIM derives workpieces from a drawing and completely defines and generates all necessary geometric data for the grinding cycles.



Furthermore, operators can easily check and visualize the grinding process through simulation on a PC or on the machine.



With swing diameters of 9.84" and 11.8" above the table respectively, the S121 and S131 replace STUDER's CT700 and CT900 models. The S141, with a swing diameter of 15.75", further extends capabilities of the product line by enabling machining of larger workpieces. The machines enable external diameters up to 6.3" to be machined with an external grinding wheel 9.8" in diameter. The maximum length of parts including clamping device is 11.8" for all three radius grinding machines, and the maximum workpiece weight including clamping device is 220 lbs.



The new radius grinding machines are ideal for manufacturing dies, especially in the packaging industry, where tungsten carbide and ceramic are primarily processed, and the production of hydraulic components such as axial pump pistons, guide plates and housings made of hardened steel, cast iron and copper. The machines are also well suited for the production of complex workpieces with several tapers greater than 20° to 90° in a single clamping. Examples include watch and medical technology with extra-hard materials such as industrial ceramic, sapphire and tungsten carbide, as well as the manufacturer of human implants for shoulders, knees and hips from ceramic and titanium.



The addition of the S121, S131 and S141 radius grinding machines rounds out the platform of STUDER internal cylindrical grinding machines. Other machines in the line include the S110 and S120 machines, the S121 to S151 universal internal grinding machines and the S122 production internal grinding machine.



About United Grinding North America, Inc.

UNITED GRINDING North America, Inc. is the subsidiary for the North American market, with two production plants of 16,732 sq-ft space in Miamisburg, Ohio and 16,732 sq-ft in Fredericksburg, Virginia and over 155 employees around North America. Apart from its production plants in the U.S., it runs an additional sales and service office in Querétaro, Mexico. UNITED GRINDING North America occupies a leading position in the North American grinding machine tool market by offering innovative products in the technology areas of surface & profile grinding, cylindrical grinding and tool grinding. With a wide range of products, application know how from a single source and a high level of innovation capabilities, the customers enjoy the benefits in terms of efficiency, quality and reliability of its products. For more information, please visit www.grinding.com.



UNITED GRINDING

Ted Neckel

Director of Corporate Marketing

937.847.1229 

ted.neckel@grinding.com



dgs Marketing Engineers

Chuck Bates

Director of Public Relations

317.813.2230

bates@dgsmarketing.com





More from Controls & Controllers