Radio Remote Control suits machine control panels.
Press Release Summary: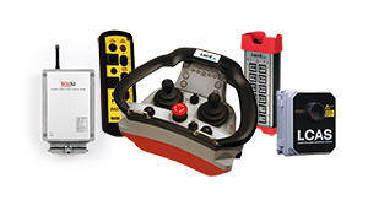 Offering redundant hardware and software architecture, SCU32 Transmitter Control Unit provides radio link for industrial applications and wireless solutions. Unit transmits up to 32 + 4 digital commands and up to 8 analog signals. It can be combined with various remote control receivers such as CT24, which features stop circuits that monitor output contacts, and shut down systems in event of failure.
---
Original Press Release:

Laird to Showcase Industrial Portfolio at Mercopar 2013



Including the Launch of a New Remote Control System for Machine Control



Laird, a global technology company, announced it will attend Mercopar 2013, the largest subcontracting and industrial innovation fair in Latin America. Laird will showcase products for industrial automation and material handling that increase productivity and safety and provide a high return on investment. Laird will also launch a new remote control for machine control panels, the SCU32. Mercopar will take place October 1 through 4 at the Festa da Uva Event and Exposition Center in Caxias do Sul, RS, Brazil with Laird exhibiting at booth #L246.



Laird will demonstrate industrial automation solutions including the SCU32, CT24 and  LRC-L1. The new SCU32, a transmitter control unit, offers redundant hardware and software architecture to provide a safe and reliable radio link for industrial applications and wireless solutions. The unit transmits up to 32 + 4 digital commands and up to 8 analog signals and has customization and versatility benefits that set it apart from competitive remote control systems. It can be combined with various remote control receivers like the CT24, a receiving unit which features stop circuits that monitor output contacts, which in the event of failure, shut down the systems being monitored. The LRC-L1 is a highly versatile remote control transmitter unit that displays important feedback information onto a graphic LCD or via status LEDs. Each of these products is deployable for cranes, hoisting systems and machines.



"Laird is the only industrial remote control manufacturer located in Brazil. We can provide customers with the best presales advice," says Mauricio Julio, account manager at Laird. "Mercopar will allow us to showcase our products to our visitors and demonstrate how our solutions can increase productivity, safety and provide a high return on investment."



Laird's Wireless Automation and Control Solutions have helped prevent serious injury while increasing efficiency and productivity by allowing operators to move to a safer location. With more than 65 years of experience in radio frequency products, Laird is one of the largest global manufacturers of industrial radio remote controls. All products are backed by Laird's worldwide service and support network, which provides service locations throughout the world, as well as a fully trained 24/7 service desk.



Contact Information

For additional information, visit http://www.lairdtech.com or contact us at:

Wireless Automation and Control Solutions: 

United States: +1-724-962-3571

Canada: +1-514-908-1659

Brazil: +55-19-3243-7803

Europe: +44-1-932-247511

South-Africa: +27-11-425-1123 

Asia: +86-21-2308-1128

email: cgi.mail@lairdtech.com



Translations

Translated versions of this press release are available in Simplified and Traditional Chinese, Japanese, Korean, and German languages.



About Laird Technologies, Inc.

Laird is a global technology business focused on enabling wireless communication and smart systems, and providing components and systems that protect electronics. Laird operates through two divisions, Wireless Systems and Performance Materials. Wireless Systems solutions include antenna systems, embedded wireless modules, telematics products and wireless automation and control solutions. Performance Materials solutions include electromagnetic interference shielding, thermal management and signal integrity products. As a leader in the design, supply and support of innovative technology, our products allow people, organisations, machines and applications to connect effectively, helping to build a world where smart technology transforms the way of life.



Custom products are supplied to major sectors of the electronics industry including the handset, telecommunications, IT, automotive, public safety, consumer, medical, rail, mining and industrial markets. Providing value and differentiation to our customers through innovation, reliable fulfilment and speed, Laird PLC is listed and headquartered in London, and employs over 9,000 people in more than 58 facilities located in 18 countries.



Trademarks

© 2013 All rights reserved. Laird, Laird Technologies and the respective logos are trademarks owned by Laird Technologies, Inc. and/or Laird PLC, either directly or indirectly through one or more subsidiaries. Other products, logos, and company names mentioned herein, may be trademarks of their respective owners.



Contact information: Jannette Avila, Laird Technologies, 3481 Rider Trail South, Earth City, MO 63045