Radio Headset targets high-noise environments.
Press Release Summary: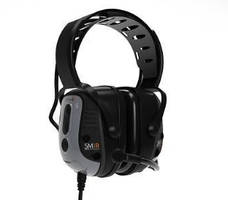 Pairing patented SENS® technology with noise-cancelling boom mic, Model SM1R allows users in high-noise environments to communicate via face-to-face or 2-way radios while maintaining 360° audible awareness of their surroundings and protecting their hearing. Headset is powered by radio, eliminating need for battery, making it lighter and more comfortable to wear. Compatible with multiple 2-way radios, headset is available in headband, behind-the-neck, and helmet versions.
---
Original Press Release:

Introducing the Perfect Radio Complement for High-Noise Environments



Sensear's new SM1R provides radio users with a 3-in-1 solution that protects hearing, enhances communication, and allows for situational awareness.



NASHUA, N.H., -- Sensear has announced the SM1R, an industrial headset built specifically to enhance two-way radio communication in high-noise environments.  The headset is unique from the rest of Sensear's portfolio in that it contains no battery and instead is powered by the radio, making the unit lighter and more comfortable for the user. 



Similar to the rest of Sensear's portfolio, the headset pairs Sensear's patented SENS® technology and a noise-cancelling boom mic to allow users in high-noise environments to communicate either via face-to-face or two-way radios while maintaining 360-degree audible awareness of their surroundings and protecting their hearing.  The SM1R will be compatible with many of the most popular radios in the marketplace today from manufacturers such as Motorola, Kenwood, Harris, Hytera, ICOM, Vertex, and Tait.  This is the 1(st) product Sensear builds specifically for the two-way radio market, using the battery of the radio to power the unit. 



"The SM1R brings Sensear's innovative SENS® technology to another type of customer," says Marty Tynan, Sensear VP of Sales.  "It provides them a more affordable option that still protects their hearing and allows them to communicate while retaining situational awareness.  This is pivotal for worker safety in all high-noise environments.  Hearing an alarm, an encroaching vehicle, or a warning from a nearby coworker can prevent an accident and even save a life."



The new headset also simplifies the radio system for the end-user by having only one device to charge instead of requiring them to charge a headset and a radio.  This is a useful feature for organizations with multiple shifts, such as ground crews at airports, workers in manufacturing plants, and any engineering teams working in noisy environments.  Since it's compatible with multiple two-way radios, the SM1R also makes for the perfect rental companion for construction jobs that require temporary use of radio communication.



Sensear is now accepting orders for the SM1R through local two-way radio dealers.  The headset is available in headband, behind-the-neck, and helmet versions.  Learn more about the SM1R, hearing protection, and Sensear by visiting www.sensear.com.



About Sensear: Sensear is a global leader in developing and manufacturing best-in-class digital over-the-ear and in-the-ear headsets for use with two-way radio and Bluetooth® communication devices.



PR Contact:

Nicholas Bacigalupi

t: +1 (954) 295-0640

e: nicholas.bacigalupi@sensear.com

More from Controls & Controllers