Radio Frequency Modem has frequency-hopping technology.
Press Release Summary: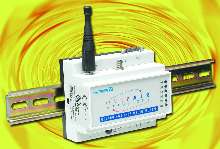 Wireless BusWorks® OS2400-485 enables communication between remote Modbus I/O devices. Operating in license-free 2.4 GHz ISM band, modem minimizes interference from other wireless devices. Functionality includes advanced digital signal processing and dual-antenna capability. Modem operates as master, slave, or repeater, supports universal RS-232/422/485 communication, and achieves data rates up to 115.2Kbps with full-duplex asynchronous communication.
---
Original Press Release:

New Wireless 2.4GHz Modems for Modbus Deliver Superior Reliability and More Secure Data Transmission


Acromag now offers industrial-grade radio modems with advanced digital signal processing and frequency hopping technology to compliment their line of Modbus remote I/O modules.

Wixom, MI: Acromag's new BusWorks® OS2400-485 radio frequency modems enable wireless communication between remote Modbus I/O devices. These RF modems operate in the license-free 2.4GHz ISM band to minimize interference from other wireless devices. Advanced digital signal processing, frequency hopping spread spectrum technology, and dual antenna capability add further reliability to ensure secure data transmission. The radio modems can operate as a master, slave or repeater and support universal RS-232/4232/485 communication. Pricing starts at $1250 for the modems with a wide assortment of antennas, cables, and other installation accessories available.

These wireless modems are ideal for industrial and utility applications where direct connections between control devices are not feasible. 2.4GHz radios can be used throughout the world without site licenses, leased line fees, or other wireless service fees. Two models meet the unique needs of American and European users. Data rates up to 115.2Kbps can be attained with full-duplex asynch-ronous communication. Half-duplex is also supported. Modbus and DNP3 protocols are handled by an integrated router. And with low latency, the modems are suitable for real-time applications.

Setup is fast and easy with a Windows® configuration program. Modems can be configured for operation in point-to-point, broadcast, or point-to-multipoint modes. The RF output levels are also user-configurable and with thirty-two unique, user-selectable data channels, multiple networks can operate in the same area. Plus, network-wide diagnostics can be conducted from any unit. Automatic antenna diversity optimizes local and long-distance reception when two antennas are installed.

A wide assortment of antennas, cables, and other accessories are available directly from Acromag. Antennas ranging from two to eleven dbi output with omni-directional or directional transmission patterns offer a variety of options to meet specific broadcasting needs. Lightening protection devices safeguard against damage from electrical storms. A survey kit offers all the tools necessary to evaluate communication distances and signal integrity at the installation site. Miscellaneous cables and power supplies round out the offering to complete an installation.

For collecting data from sensors, monitoring discrete devices, and delivering output control signals to actuators or displays, Acromag offers the 900MB series of Modbus distributed I/O modules. These compact, multi-channel analog and discrete I/O modules are ideal for a broad range of remote I/O applications. They offer a low cost per channel for tight budgets and high-density packaging for tight fits. The 900MB series is fully compatible with the OS2400-485 radio modems to deliver a complete measurement and control subsystem with wireless communication capability.

Acromag, a multimillion dollar international corporation, has been manufacturing and developing measurement and control products for more than 45 years. They offer a complete line of industrial I/O products including process instruments, signal conditioning equipment, data acquisition boards, distributed I/O systems, and communication devices.

For more information about Acromag products, call the Inside Sales Department or Marketing Communications at (248) 624-1541, (800) 881-0268, FAX (248) 624-9234, or write Acromag, Inc. at P.O. Box 437, Wixom, MI 48393-7037 USA. Information is also available on the Acromag web site at www.acromag.com.


More from Controls & Controllers