Radio Control Unit features 2/4/6/8 channels plus Start/Stop.
Press Release Summary: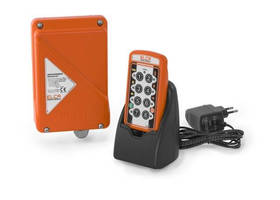 Offering frequency band of 868.0125-869.9875 MHz with up to 24 different possibilities, MITO is designed to work with recovery vehicles, winches, small cranes, and other industrial applications. System consists of IP67 protected transmitter and receiver, internal lithium battery, and battery charger. Listen Before Transmit feature allows unit to automatically scan, find, and lock onto clear and available frequency by pressing start button.
---
Original Press Release:

MITO Radio Control



MITO is the new industrial radio control unit built and developed by ELCA srl, using a new technology, 2/4/6/8 channels plus Start and Stop, made to adapt to the harshest applications.

Internal lithium battery, IP67 (transmitter and receiver) and variable settings, are just some of the features of this new system designed to work with recovery vehicles, winches, small cranes and many other industrial applications.

The system consists of transmitter, receiver and battery charger and also includes the Listen Before Transmit feature allowing the MITO to automatically scan, find, and lock onto a clear and available frequency upon pressing of start button.

The frequency dedicated to this system is 868.0125 to 869.9875 MHz range with up to 24 different possibilities.

Technical Features:

o Frequency band 868.0125 - 869.9875MHz

o Modulation GFSK

o Hamming distance 10

o Work temperature -20 - +55 °C

o Transport temperature -20 - +55 °C

o Operating distance 150 m

o Passive stop < 2s

Transmitter:

o N. of functions 8

o Power supply Lithium battery 3,7V 1100mA

o Trasmission consumption 25mA

o Autonomy 50 h

o Protection level IP 67

o Dimensions 113x60x26 mm

o Weight 100 gr.

Receiving Unit:

o Power supply * 9-30 Vcd/ac

o Absorbed power < 5w

o Protection level IP 67

o NO contacts 8 channels

o Max voltage applicable to the contacts 230 Vac

o Max current applicable to the contacts 10 A in AC1, 10A in DC1 to 30V

o Dimensions 165x107x50 mm

o Weight 450 gr.

Via del commercio, 7/B - 36065

Mussolente (VI) - Italia

Tel: +39.0424.578500

Fax: +39.0424.578520

info@elcaradio.com

www.elcaradio.com

More from Mechanical Power Transmission