Radiant Heaters may be used indoors or outdoors.
Press Release Summary: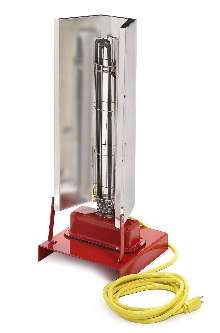 Offered in 3 sizes, CRDS, CRDP, CRTS, and CRTP 2- and 3-element fixtures are available with painted steel or stainless steel housings. They accept interchangeable metal sheath, quartz tube, and quartz lamp elements. Single-element CRC fixtures, with quartz-tube elements, come in 1,500, 2,000, and 3,000 W sizes. Plug-in radiant heaters, CPRG and CPRP, feature quartz tube elements, and RBC-1 consists of heavy-duty single metal sheath element radiant heater.
---
Original Press Release:

Chromalox Releases New Radiant Comfort Heaters for Indoor, Outdoor Use


CONTACT:

Paul Rannick
Chromalox, Inc.
paul.rannick@chromalox.com

or

Barbara Lee
Chromalox, Inc.
412-967-3803
barbara.lee@chromalox.com

PITTSBURGH - March 19, 2004 - Chromalox, the world's largest manufacturer of industrial heat and control products, announces the release of a new selection of comfort radiant heaters suitable for outdoor comfort heating applications as well as for ice and snow melting. Units are available in a variety of sizes and styles and for both fixed and portable applications. With the addition of these new models Chromalox now offers the broadest and most complete line of infrared radiant heaters in the world.

The CRDS, CRDP, CRTS and CRTP two- and three-element fixtures are available in three sizes with a choice of painted steel housings for indoor areas or stainless steel for use outdoors or in corrosive environments. They accept metal sheath, quartz tube and quartz lamp elements, which can be used interchangeably to provide the flexibility necessary for multiple application projects. This product also features a choice of efficient, attractive gold anodized reflectors with five distinct reflector shapes for specific needs.

The CRC single element fixtures with quartz tube elements provide supplemental (spot) indoor heating in residential, commercial and light industrial areas. They come in three sizes of 1500, 2000 and 3000W. The quartz tube elements allow the units to be located in protected shipping and receiving areas where they may be subject to windy conditions.

The CPRG and CPRP are plug-in radiant heaters supplied with a cord and plug and can be easily mounted and plugged into a nearby electrical outlet. They can be used in residential or commercial applications such as tollbooths, garages, shipping and loading areas. They feature quartz tube elements and can also be made portable with an optional roll-around cart.

The RBC-1 is a heavy-duty single metal sheath element radiant heater and augments the STAR 2 and STAR 5 and RBC-3 heater designs.

Price and availability: Ranges from $233-$641; available in stock.

For more information: For more information on these new comfort heaters or any other Chromalox product, visit the company's web site at www.chromalox.com or contact Chromalox at:

Telephone: 800-443-2640
412-967-3800

Fax: 412-967-5148

Address:
Chromalox, Inc.
103 Gamma Drive Extension
Pittsburgh, PA 15238

About Chromalox, Inc.

For more than 85 years, customers have relied on Chromalox for the utmost in quality and innovative solutions for industrial heating applications. Chromalox manufactures the world's largest and broadest line of electric heat and control products, including heating components, immersion heaters, circulation systems, heat transfer systems, boilers, industrial and comfort air heating, heat trace cables, sensors and precision electronic controls. With multiple manufacturing, engineering, warehousing and sales locations throughout North America and Europe, Chromalox is a global supplier providing the highest level of customer support. Chromalox is headquartered in Pittsburgh, PA.

Products and company names listed herein are trademarks or trade names of their respective companies.

More from Controls & Controllers