Radial Leaded Varistors protect circuits and filter noise.
Press Release Summary: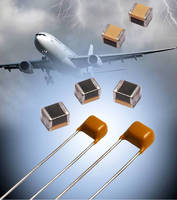 Combining multilayer varistor (MLV) and X7R multilayer ceramic capacitor (MLCC) technology, radial leaded CapGuard™ Automotive Series exhibits bidirectional transient voltage protection, EMI/RFI attenuation, and multi-strike capabilities. AEC-Q200-qualified products, resistant to harsh environments, mechanical shock, and vibration, are available with working voltages of 26 and 45 Vdc, capacitances of 0.47 and 1 µF (both with ±20% tolerance), and energy ratings of 0.6 and 0.7 J.
---
Original Press Release:

New AVX Radial CapGuard(TM) Varistors Provide Circuit Protection & High Frequency Noise Filtering in a Single Component



The new, radial leaded devices combine MLV & MLCC technology, providing bi-directional transient voltage protection, EMI/RFI attenuation, & multi-strike capabilities in a single, high-reliability component ideal for a wide variety of electronic circuits



FOUNTAIN INN, S.C. – AVX Corporation, a leading manufacturer of advanced passive components and interconnect solutions, has introduced the new radial leaded CapGuard™ Automotive Series. Combining multilayer varistor (MLV) and high capacitance, temperature stable X7R multilayer ceramic capacitor (MLCC) technology in a single, high-reliability device, the new CapGuard Series exhibits bi-directional transient voltage protection, excellent EMI/RFI attenuation over a wide frequency spectrum, and multi-strike capabilities in a compact, radial configuration with a conformal epoxy coating that provides enhanced resistance against harsh environments, mechanical shock, and vibration. Qualified to AEC-Q200, CapGuard devices exhibit exceptional current and energy handling capabilities, and are ideally suited to protect sensitive electronics from high voltage transients, as well as to filter out high frequency EMI/RFI noise generated by switch mode power supplies, motors on DC lines, I/O lines in electronic circuits, inductive switching, relays, and other applications.



"Our new radial leaded CapGuard Automotive Series devices allow design engineers to protect sensitive components against high voltage transients, and filter out unwanted EMI/RFI noise from the circuit, with a single, dual function component," said Jiri Machanicek, technical marketing manager at AVX. "Built for durability in harsh environments, CapGuard Series devices are the ideal choice for applications that require EMI filtering, surge protection, high reliability performance, enhanced mechanical resistance, and the conservation of board space."



The CapGuard Automotive Series is currently available with two working voltages (26VDC and 45VDC), two capacitances (0.47µF and 1µF), both with ±20% tolerance, and two energy ratings (0.6J and 0.7J). Rated for operating temperatures spanning -55°C to +125°C, and ESD-rated to 25kV (HBM ESD Level 6), the RoHS compliant series is available in two sizes: 20 and 21, both of which measure, at a maximum, 5.99mm wide, 7.49mm high, and 4.5mm thick, and have a lead diameter of 0.508mm. Lead spacing for size 20 parts with straight leads is 2.54mm, and lead spacing for size 21 parts with kinked leads is 5.08mm. CapGuard Automotive Series devices can be shipped in bulk or on one of two standard tape and reel packaging options. Lead time for the series is 27 weeks.



For more information about AVX's new radial leaded CapGuard Automotive Series, please visit http://partbuilder.avx.com/p/pb/pdf/RLCapGuard.pdf to download the product datasheet. For all other inquiries, please visit www.avx.com, call 864-967-2150, or write to One AVX Boulevard, Fountain Inn, S.C. 29644.



About AVX

AVX Corporation is a leading international supplier of electronic passive components and interconnect solutions with 20 manufacturing and warehouse facilities in 11 countries around the world. AVX offers a broad range of devices including capacitors, resistors, filters, timing and circuit protection devices, and connectors. The company is publicly traded on the New York Stock Exchange (NYSE:AVX).



For more information, contact:

Jiri Machanicek

Technical Marketing Manager

+420 575757-161

JiriMachanicek@avxeur.com



Christine Stieglitz

BtB Marketing

919-872-8172

christine.stieglitz@btbmarketing.com

More from Optics & Photonics