Radial Lead Capacitors have low inductance strap leads.
Press Release Summary: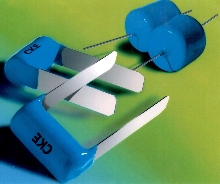 CH Series Capacitors use high dielectric constant (greater than 4,000) ferroelectric materials based on barium and strontium titanate. Available in voltages to 60 kV and capacitance values to 500 pF, products are coated with flame-retardant, dry fluid-bed epoxy for reliable voltage and frequency performance as well as predictable change of capacitance with time. Leads include 22 AWG wire (standard), low inductance strap, and axial egress wire.
---
Original Press Release:
New 60KV Radial Lead Capacitor Available with Very Low Inductance Leads

The CH Series Capacitor from CKE is the first very high voltage capacitor available with wide low inductance strap-style leads. These capacitors are available in voltages up to 60KV and capacitance values up to 500 pF.

The capacitors are supplied in rated voltages of up to 60kV (90kV test). CH series capacitors use high dielectric constant ferroelectric materials based on barium and strontium titanate with dielectric constants that are generally greater than 4000. Temperature characteristic codes for this series are Z5P, X5P, X5R and X7R with others available. Key features include small size, a variety of lead configurations, good non-linear temperature characteristics, reliable voltage and frequency performance and predictable change of capacitance with time. They are coated with flame-retardant, dry fluid-bed epoxy for high reliability and have temperature ratings consistent with EIA RS-198-C. Standard leads are 22 AWG wire but low inductance strap leads and axial egress wire leads are available upon request.

The CH Series components are ideal for use in high-energy voltage multiplier circuits, Compact Marx generators and other pulse energy applications. This series will soon be available in voltages up to 90 kV (120kV test). Samples of CH2Y5P101M60KV and CH2X5P501M40KV are available now and 5k production quantities are available for as low as $8.00 each. Lead times for production quantities are as low as 6 to 8 weeks.

Pam Brank

Sales Manager

CKE

P. O. Box 211

Lucernemines, PA 15754

Tel: (724) 479-3533, Fax: (724) 479-3537

Web: www.cke.com, E-mail Pam@cke.com
More from Electrical Equipment & Systems