Radial-Fin Heat Sink Extrusions target LED light engines.
Press Release Summary: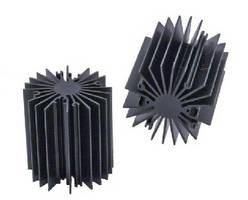 Made of black anodized aluminum, 19000 Series features radial-fin geometry optimized for natural convection. Five models are available with power ratings of 42.8, 26.3, 9, 4.5, and 24 W and corresponding thermal resistances of 0.68, 1.15, 2.38, 3.27, and 1.15 C/W. Expected temperature rise above ambient ranges from 14.7°C max for 4.5 W model to 29.2°C for 42.8 W unit. Available in 2-10 in. lengths and 1.26-4.51 in. diameters, heat sinks include screw bosses for LED substrate attachment.
---
Original Press Release:

Ohmite Manufacturing Announces Wakefield Solutions 19000 Series Radial-Fin Heat Sink Extrusions



Arlington Heights, IL - Ohmite Manufacturing, a leading provider of resistors for high current, high voltage and high energy applications, announces Wakefield Solutions' 19000 Series radial-fin heat sink extrusions for LED light engines.

Developed in conjunction with an engineering team from a leading LED manufacturer, the 19000 Series is designed to help LED engineers meet both space constraints and operating parameters. With a low-cost, lightweight aluminum profile, the 19000 series offers maximum thermal performance that makes matching the right heat sink to the right LED a much less time-consuming process.

The 19000 heat sinks are designed to make maximum use of available resources. In addition to being black anodized for maximum thermal performance, they are also constructed with a radial-fin geometry that has been optimized for natural convection.

These design benefits are ideal for many types of LED lighting fixtures. Though 19000 Series heat sinks are most commonly used in both recessed and externally mounted down lighting applications, they are equipped with extrusion profiles that suit a variety of LED configurations. Mounting features are in fact incorporated as part of the extrusion, so that the 19000 series can be easily mounted with standard hardware. Each extrusion profile has screw bosses located precisely to enable easy LED substrate attachment, and provisions for slip-nut attachment make it easy to assemble the 19000 series heat sinks into diverse lighting fixtures.

Wakefield offers five different models of the 19000 series, each designed for a different maximum power rating and expected temperature rise above ambient temperature. Options range from a maximum 14.7° C rise for a 4.5 watt power rating to a maximum 29.2° C rise for a 42.8 watt power rating. All models do not exceed a maximum LED substrate temperature of 75° C, and are available in multiple sizes, weights, and thermal resistances.

Heatsink lengths range from 2 inches (50.8 millimeters) to 10 inches (190.5 millimeters), with diameters of 1.26 inches (32 millimeters) to 4.51 inches (115 millimeters), while the heat sink weights range from 0.2 pounds (92 grams) to 2.64 pounds (1199 grams). Available powers include 42.8, 26.3, 9, 4.5, and 24 watts, with corresponding thermal resistances of 0.68, 1.15, 2.38, 3.27, and 1.15 C/W.

About Ohmite

Ohmite Manufacturing Company has been a leading provider of resistors for high current, high voltage and high energy applications for over 80 years. Ohmite's full complement of products includes wirewound, wire element, thick film, and ceramic composition resistors, in addition to variable voltage controls and heat sinks.

Founded in 1925, Ohmite continues to offer a broad selection of Power Resistors to worldwide customers in the industrial, medical, military, and aerospace industries. Through ongoing product development, Ohmite continues to provide the latest in resistor technology required by today's sophisticated circuit designs. For more information, visit www.ohmite.com or follow Ohmite on Twitter and Facebook.

About Wakefield

Wakefield Thermal Solutions is one of the world's leading vertically integrated designers and manufacturers of branded aluminum thermal management solutions and aluminum extrusions. Based in Pelham, NH, Wakefield's fabrication products include extruded heat sinks, active cooling components, stamped and low power heat sinks, and precision compression mounted clamp systems. Wakefield's extrusion operation manufactures nearly all of the extruded aluminum needed for its thermal management products, and also manufactures custom and catalog aluminum extrusions for external sales.

Founded in 1957, Wakefield operates facilities in Pelham, NH, Watertown CT, and Cary, NC, as well as a sourcing office in China.

More from Communication Systems & Equipment