Radial Artery Compression Device safely stops bleeding.
Press Release Summary: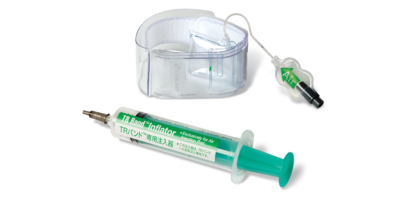 Utilizing transparent band and precision pressure balloons, TR Band(TM) achieves hemostasis without compromising local nerve structure. Large balloon compresses entire puncture site, while small balloon gives it angled direction for point compression. Direct visualization of access site facilitates management following transradial procedures, while preventing numbness and pain.
---
Original Press Release:
Terumo Interventional Systems Launches New Radial Artery Compression Device
SOMERSET, N.J., Oct. 16 /- With its ability to achieve hemostasis without compromising local nerve structure, Terumo's new TR Band(TM) enhances patient comfort and provides direct visualization of the access site to facilitate management following transradial procedures. Terumo Interventional Systems announces the launch of the TR Band, a radial artery compression device designed to safely and comfortably stop bleeding after transradial procedures. The TR Band sets a new standard of excellence with its easy-to-apply transparent band and precision pressure balloons that enable unobstructed visualization and monitoring of radial artery compression - all while preventing numbness and pain for enhanced patient comfort. The primary benefit that the TR Band has over similar devices is its directed radial compression, which enables hemostasis achievement without compromising local nerve structure. The TR Band does so with its two separate inflatable balloons. A large balloon compresses the entire puncture site, and a small balloon gives it an angled direction for point compression. This dual system enables the TR Band to avoid compression of the nerves or the ulnar artery, which can cause discomfort and/or complications. The transparent band, which allows full visibility to the clinician during the critical post procedure stage, is another significant clinical benefit of this product. "We are very excited to be able to put this product into the hands of physicians and caregivers in the United States," said Gary Clifton, Marketing Manager of Entry Site Management and Coronary Products at Terumo Interventional Systems. "The ability to have total and precise visual and manual control over the radial artery, from the time of sheath removal to complete hemostasis, is a benefit not available in any competitive product." The TR Band was specifically developed for use after transradial procedures. While transradial procedures are showing significant success and acceptance in the cardiac cath lab communities of Europe, Asia, and Canada, transradial access is in its infancy in the U.S. However, radial access appears to be part of a growing trend. According to Mr. Clifton, "In an age of increasing peripheral vascular disease and our nation's propensity for obesity, radial access has significant advantages over femoral access when considering the complications and challenges often associated with this approach. Our goal is to introduce products that support our core competencies - one of which is entry site management - and we believe we have done that with the launch of the TR Band." For more information, customers can contact Terumo Interventional Systems by calling its Inside Sales Customer Care Team at 800-862-4143 or by visiting www.terumomedical.com/interventional. Terumo Interventional Systems Terumo Interventional Systems (TIS), a strategic business unit of Terumo Medical Corporation, directly markets a full line of guidewires, catheters, introducer sheaths, guiding sheaths and embolization products for use in a multitude of different interventional procedures. Interventional Radiologists, Interventional Neuroradiologists, Interventional Cardiologists and Vascular Surgeons are among the medical professionals that depend upon TIS products to access and cross difficult-to- reach lesions thereby allowing therapeutic intervention in previously unreachable vascular beds. Terumo Medical Corporation Founded in 1972 as a Terumo Corporation subsidiary, Terumo Medical Corporation (TMC) develops, manufactures and markets high-quality medical devices used in a broad range of applications in numerous healthcare markets. TMC manufactures a broad portfolio of needles and syringes, entry-site management products and a line of sterile connection devices used in hospitals and blood banks worldwide. Terumo Corporation Tokyo-based Terumo Corporation is one of the world's leading medical device manufacturers with $2.3 billion in sales and operations in more than 150 nations. Founded in 1921, Terumo develops, manufactures and distributes world-class medical devices including products for use in cardiothoracic surgery, interventional procedures and transfusion medicine. The company also manufactures a broad array of syringe and hypodermic needle products for hospital and physician office use. Terumo contributes to society by providing valued products and services to the healthcare market and by responding to the needs of healthcare providers and the people they serve. Terumo Corporation's shares are listed on the first section of the Tokyo Stock Exchange (No. 4543, Reuters symbol < 4543 .T>, or Bloomberg 4543:JP) and is a component of the Nikkei 225, Japan's leading stock index. CONTACT: Linda Cahill, Media Director, Terumo Interventional Systems, +1-727-586-2751, lindamed@tampabay.rr.com Web site: http://www.terumomedical.com/interventional
More from Electrical Equipment & Systems