RADIA Shakes it up in its Explosion-Proof Mixer with Optidrive Compact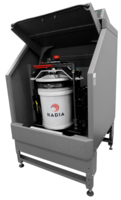 A leading manufacturer of commercial and industrial mixers and shakers in the United States has chosen Invertek Drives Optidrive Compact 2 for its new explosion-proof gyroscopic mixer.
RADIA, formerly known as Red Devil Equipment Co, based at Plymouth, MN, is using the OEM drive in its 5025 Red D MixÔ, one of the most durable, explosion-proof, gyroscopic mixers on the market.
RADIA manufactures a range of mixers and shakers used for everything from food and paint production, to use in laboratory and product testing. Its customers range from small start-ups to Fortune 500 companies.
It required a drive small enough to be installed within the casing of the mixer, capable of driving a 1HP, 110v, 60Hz three-phase motor.
The Optidrive Compact 2 was ideal due to its small size and reliability, according to Steve Carlson, Senior Development Engineer at RADIA.
"Our products are used rigorously by our customers for a range of scenarios and deliver the lowest total cost of ownership over the life of their equipment, and we needed a drive to match our product reliability. We tested the Compact 2 and found it more than matched our needs," he said.
"Key reasons for choosing it were its small size, the fact that it mounts in any direction and with a heat-sink at the bottom it does not require much space around it, with the heat dissipating into an adjacent compartment within the mixer.
"The fact that it doesn't have a fan and is solid state means there is little to fail, and it can handle rugged situations, as our in-house testing demonstrated."
He added: "Additionally, using the OptistickSMART means the drive can be easily set-up and commissioned within minutes. This is important during production where time is money and being able to replicate drive parameters easily and quickly makes all the difference. We can easily change the parameters at any time as well for different programming requirements should they be needed in different scenarios."
The Compact 2 can drive motors between 0.37kW and 4kW and is available in three sizes with 110v, 230v and 400v capability.
Mr Carlson added: "In testing, we found the Compact 2 nice to work with, with a clear manual, capabilities and programming. Also, not having unnecessary features, such as a display and keypad, made it a sensible choice for us."
Wayne Morris, Vice President of Invertek Drives USA, said: "RADIA produces some of the most durable mixers and shakers in the world. The 5025 is being used to test and mix products in some extreme situations, including Groups C and D hazardous (classified) locations.
"RADIA have undertaken their in-house testing of the Compact 2. Its tests demonstrated it could surpass their requirements. This means its customers can be secure in the knowledge of durability and life expectancy of the mixer. It's a perfect combination."
He added: "The use of the OptistickSMART means rapid installation and commissioning during the production of the mixer. Any need to change parameters can be easily undertaken at any time." 
The OPTISTICKSmart facilitates real-time communication using Bluetooth and Near Field Communication (NFC) between Optidrives and a PC running OptiTools Studio PC software or a smartphone with the OptiTools Mobile app.
More details about Invertek Drives products and applications can be found at www.invertekdrives.com. Information about RADIA can be found at www.radiaproducts.com.
Invertek Drives
Invertek Drives Ltd is dedicated to the design, manufacture and marketing of electronic variable frequency drives for controlling electric motors. 

The state of the art UK headquarters houses specialist facilities for research & development, manufacturing and global marketing. All operations, including research and development, are accredited to the exacting customer focused ISO 9001:2008 quality standard whilst its Environmental Management System is accredited to the ISO 14001:2004 quality standard.

Invertek's products are sold globally by a network of specialist distributors in over 80 different countries. Invertek Drives unique and innovative Optidrive range is designed for ease of use and meets with recognised international design standards for CE (Europe), UL (USA) and CTick (Australia). More details can be found by visiting www.invertekdrives.com.
For more media information, contact:
Owain Betts, t: +44 (0)1938 55 68 68 m: +44 (0)7787 437 052
www.invertekdrives.com
More from Food Processing & Preparation