Radar Pulse Antennas address high and low band spectrum.
Press Release Summary: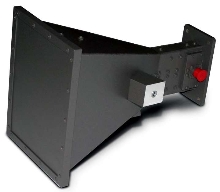 Addressing high pulsed field level requirements at highest and lowest microwave frequency bands, Models AT4333 and AT4318 high-gain, high-power microwave horn antennas have respective frequency ranges of 2.2-3.3 and 1.2-1.8 GHz. When used in conjunction with Model 500T2G8 Traveling Wave Tube microwave amplifiers, antennas provide 600 V/m pulses, field level, with ~3 dB margin to accommodate expected system losses.
---
Original Press Release:

AR Worldwide Introduces Two Radar Pulse Antennas to Address High Pulsed Field Level Requirements at Both The Highest & Lowest Frequency Bands


New Antennas Meet Latest GM and Ford Standards

Souderton, PA (3/8/05) - In response to changing worldwide automotive test standards, AR Worldwide has introduced two radar pulse antennas to address the high pulsed field level requirements at the highest and the lowest microwave frequency bands. When used in conjunction with the AR Worldwide Model 500T2G8 Traveling Wave Tube microwave amplifiers, each of the new antennas will provide the 600V/m pulses field level (currently required by General Motors and Ford Motor Company) with approximately 3dB margin to accommodate expected system losses.

The Model AT4333 is a high gain, high power microwave horn antenna that has been developed in response to the high pulsed field level requirements at the highest microwave frequency band. Its frequency range spans from 2.2- 3.3 GHz.

The Model AT4318 is a very high gain, high power microwave horn antenna that addresses the high pulsed field level requirements at the lowest microwave frequency band. The AT4318 has a frequency range of 1.2 - 1.8 GHz.

AR Worldwide Competitive Edge products supply a multitude of unique RF solutions to companies around the world. The company's limitless support network reaches the far corners of the globe. And everything sold by AR Worldwide is backed by its exclusive, "best-in-the-business, second-to-none" 3-year warranty.

For more information, contact AR Worldwide RF/Microwave Instrumentation, 160 School House Rd. Souderton, PA 18964 at 215-723-8181 or at www.ar-worldwide.com. For an applications engineer, call 800-933-8181.

Dick Rogers
drogers@ar-worldwide.com
AR Worldwide o RF/Microwave Instrumentation
160 School House Road
Souderton,PA 18964-9990
Tel (215) 723-8181 Fax (215) 723-5688