RADA's Multi-Mission Hemispheric Radar at the Heart of Rafael's "Drone Dome", Wins UK MoD Tender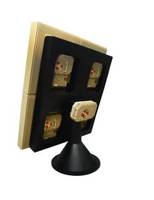 The British Army is the first customer for this advanced counter-drone solution which includes RADA's MHR
NETANYA, Israel, Aug. 20, 2018 (GLOBE NEWSWIRE) -- RADA Electronic Industries Ltd. (NASDAQ: RADA) announced that its Multi-Mission Hemispheric Radars (MHR), which are embedded in the Rafael Advanced Defense Systems Drone Dome counter-drone solution, will be delivered to the British Army in the coming months. These systems will be used to protect from airborne drones some sensitive facilities and sites on which British armed forces are deployed. The British Army is the first customer for this new and advanced Drone Dome system. Several initial systems are being purchased, with additional potential for significant further orders which are expected to materialize in the coming months and quarters.
Rafael's Drone Dome team together with RADA, won the tender published by the UK Ministry of Defense, ahead of Israel Aerospace Industries' subsidiary Elta and Italian company Leonardo.
RADA's MHR provides 360-degree surveillance and detects the drones at distances of 3-5 kilometers. Signal intelligence system along with electro-optical sensors, provide additional layers of threat classification and identification, while RF jamming provides the soft-kill layer of this solution.
Deliveries of this program are expected to be concluded within 2018.
Dov Sella, RADA's CEO, commented, "This win, in view of the advanced competition, demonstrates the leadership of our software defined, multi-mission AESA radars in the fields of VSHORAD (very short range air defense) and C-UAV (counter UAV) warfare. It is the first sale of the Drone Dome solution, after intensive global business development efforts over the past 2 years by the joint team, to a leading global force such as the UK Army. As a result, we expect that sales of these radars, as part of the Drone Dome solution, will gain significant momentum in the coming quarters."
About RADA
RADA Electronic Industries Ltd., an Israel-based defense electronics company, specializes in the development, production, and sales of Tactical Land Radars for Force and Border Protection, and Avionics Systems (including Inertial Navigation Systems) for fighter aircraft and UAVs.
Company Contact:
Gil Schwartz (VP, BD & Marketing)
Tel: +972-9-892-1111
mrkt@rada.com 
www.rada.com 
Investor Relations Contact:
GK Investor Relations
Ehud Helft/Gavriel Frohwein
Tel: 1 646 688 3559
rada@gkir.com 
More from Packaging Products & Equipment