Racks and Pinion Systems offer options for flexibility.
Press Release Summary: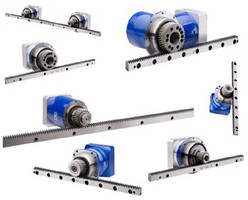 Precision (Premium), Smart, and Economy Class Racks are available with various options to increase application flexibility and functionality. In addition to 2 m rack variants, including 0.35, 0.6, 1.3, or 1.75 m, options include unique hole patterns, with and without pin holes; blank racks without fastening holes; and unique tooth quality for racks up to 2m (std=Q6). Hole pattern, such as thread holes, and hole position variations, such as thread hole in back, are also available.
---
Original Press Release:

Endless Rack Options Provide Flexibility



Options allow for 2-meter rack and various custom choices

Precision technology takes years to develop, involving hundreds of design engineers and endless hours of research. Creating solutions that fit the constantly changing motion market is what Wittenstein has been excelling at for over two decades.

Rack technology mirrors Wittenstein's achievements in design and application. The current rack products from Wittenstein are:

- Precision (Premium) Class Rack

- Smart Class Rack

- Economy Class Rack

Now, more flexibility has been added by providing customers with new rack options:

- 2-meter rack (including 0.35m, 0.6m, 1.3m or 1.75m)

- Unique hole patterns (with and without pin holes)

- Blank racks without fastening holes

- Hole pattern variations, e.g. thread holes

- Hole position variations, e.g. thread hole in back

- Unique tooth quality for racks up to 2m (std=Q6 (DIN))

Don't forget Wittenstein's pinion selections including Premium Class+, Premium Class (RTP), Standard Class (RSP) and Value Class.

Company contact:
Wittenstein
1249 Humbracht Circle
Bartlett, IL 60103
info@wittenstein-us.com
www.wittenstein-us.com

More from Packaging Products & Equipment