Rackmount Server targets military applications.
Press Release Summary: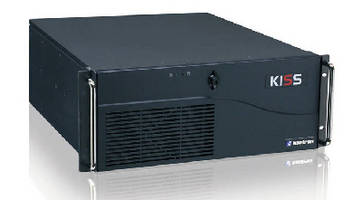 Designed for long-term operation in land and naval based defense applications, KISS 4U PCI760 MIL-STD is certified according to MIL-STD-810F and 461E specifications. Unit offers scalable performance ranging from 1.8 GHz Intel® Core(TM) 2 Duo E4300 to 4x 2.66 GHz Intel® Core(TM) 2 Quad Q9400 processor with up to 8 GB DDR2 dual channel RAM. For data storage, unit integrates 64 GB SSD to host OS and program data as well as up to three 3.5 in. SATA HDDs with 500 GB in removable disk carrier DA135.
---
Original Press Release:

Kontron Application-Ready 4U Rackmount Server Offers Long-Term Operation for Military Server Applications



Tested and certified to MIL-STD-810F and 461E specifications with outstanding performance and reliability

Eching, Germany, - Today Kontron announced the 4U rackmount server KISS 4U PCI760 MIL-STD, the latest addition to the KISS server family which is specifically designed for long-term operation in land and naval based defense applications. This server platform has been tested and certified according to the MIL-STD-810F and 461E specifications and can be configured application-ready ensuring efficient development and time-to-market for military applications with the highest demands on performance, ruggedness and reliability.

To ensure the highest level of operational readiness, even under harsh environmental conditions, the Kontron KISS 4U PCI760 MIL-STD has undergone the testing procedures established by MIL-STD-810F. In addition to operational readiness in extremely high and low temperatures (-5 to +60°C operating, -25 to +85°C non- operating), repeated tests for shock and vibration resistance were also carried out. Further testing included the electro-magnetic compatibility (EMC) and electro-magnetic radiation (EMS) tests which were executed according to the MIL-STD-461E norm and test specifications. Through these tests, the Kontron KISS 4U PCI760 MIL-STD is ideally equipped for reliable operation in challenging military applications.

The Kontron KISS systems, designed for continuous operation, offer an MTBF of 50,000 hours (approximately 5.7 years non-stop operation), high availability and low maintenance costs. The fans used for the housing are field replaceable units and are integrated on the front panel for easy removal and replacement during operation which effectively reduces the time and effort required for maintenance. The lockable front cover offers IP20 protection and optionally IP52 protection is available against the dust and damp penetration. Furthermore, the power supply not only fulfils the requirements of MIL-STD-810F and 461E specifications but because of its integration in the housing is also a space-saving feature.

With its built-in Intel® AMT 3.0 remote management engine the Kontron KISS 4U PCI760 MIL-STD offers enhanced security, remote manageability and cost savings for the embedded computing market. System managers benefit from Intel® AMT 3.0 because they can remotely carry out tasks such as installation of a new OS or setting BIOS parameters without the need for additional remote management hardware or an on-site presence. With the Intel® Trusted Execution Technology and the on-board Trusted Platform Module (TPM 1.2), the Kontron KISS Server also offers high confidentiality for sensitive data transmission.

The system configuration in detail

The Kontron KISS 4U PCI760 MIL-STD offers scalable processor performance ranging from 1.8 GHz Intel® Core(TM) 2 Duo E4300 right up to the Intel® Core(TM) 2 Quad processor Q9400 with 4x 2.66 GHz cores for high parallel data processing with up to 8 GB DDR2 dual channel RAM. For data storage, Kontron integrates a robust 64 GB SSD to host the operating system and the program data as well as up to three 3.5" SATA HDDs with 500 GB in the Kontron removable disk carrier DA135. For top level data security the media can be connected in RAID 0,1,5,10 arrays via hardware RAID controller or onboard Matrix RAID. For application-specific configurations the modular KISS System offers 1 x PCIe x16, 4 x PCIe x1 and 7 x PCI 32 Bit. Two USB connections on the front panel and 2 x USB 2.0, 2 x LAN 10/100/1000, 1 x VGA und 2x RS232 on the back panel are also available.

The Kontron KISS 4U PCI760 MIL-STD supports Windows XP, Windows 7 and Linux. The KISS server is available now in EMEA with America and APAC following in October. On request, Kontron can deliver the server as a customer-specific solution which have been tested and independently certified.

Further information on the Kontron Industrial Silent Server KISS 4U PCI760 MIL-STD is available at: www.kontron.com/products/systems+and+platforms/industrial+pc++rackmount/kiss+4u+v2/kiss+4u+pci760+milstd.html

For further information on Kontron's industrial rackmount PCs, please visit:
http://www.kontron.com/products/systems+and+platforms/industrial+pc++rackmount

About Kontron

Kontron is a global leader in embedded computing technology. With more than 30% of its employees in Research and Development, Kontron creates many of the standards that drive the world's embedded computing platforms. Kontron's product longevity, local engineering and support, and value-added services, helps create a sustainable and viable embedded solution for OEMs and system integrators. Kontron works closely with its customers on their embedded application-ready platforms and custom solutions, enabling them to focus on their core competencies. The result is an accelerated time-to-market, reduced total-cost-of-ownership and an improved overall application with leading-edge, highly-reliable embedded technology.

Kontron is listed on the German TecDAX stock exchange under the symbol "KBC". For more information, please visit: www.kontron.com/

EMEA
Norbert Hauser
Kontron
Tel: +49 (8341) 803-0
norbert.hauser@kontron.com

Americas
Richard Pugnier
Kontron
Tel:+1 (858) 623-3006
richard.pugnier@us.kontron.com

All rights reserved.

Kontron is a trademark or registered trademark of Kontron AG.

Intel® and Intel® Core(TM) are trademarks of Intel® Corporation in the US and other countries.

All other brand or product names are trademarks or registered trademarks or copyrights by their respective owners and are recognized.

All data is for information purposes only and not guaranteed for legal purposes. Subject to change without notice. Information in this press release has been carefully checked and is believed to be accurate; however, no responsibility is assumed for inaccuracies.

Sara E. Fest | Marketing Project Manager

Kontron +1 412.919.3710 www.kontron.com

More from Agricultural & Farming Products